A place where we can admire the evolving state of Mulder and Scully's (and friends') home furnishings over the years.  Just a sampling of images to start, but this post will continue to be updated as time allows.
1×01 – Deep Throat
A rare glimpse into Mulder's kitchen.  It looks like he's cooking a can of Campbell's Soup.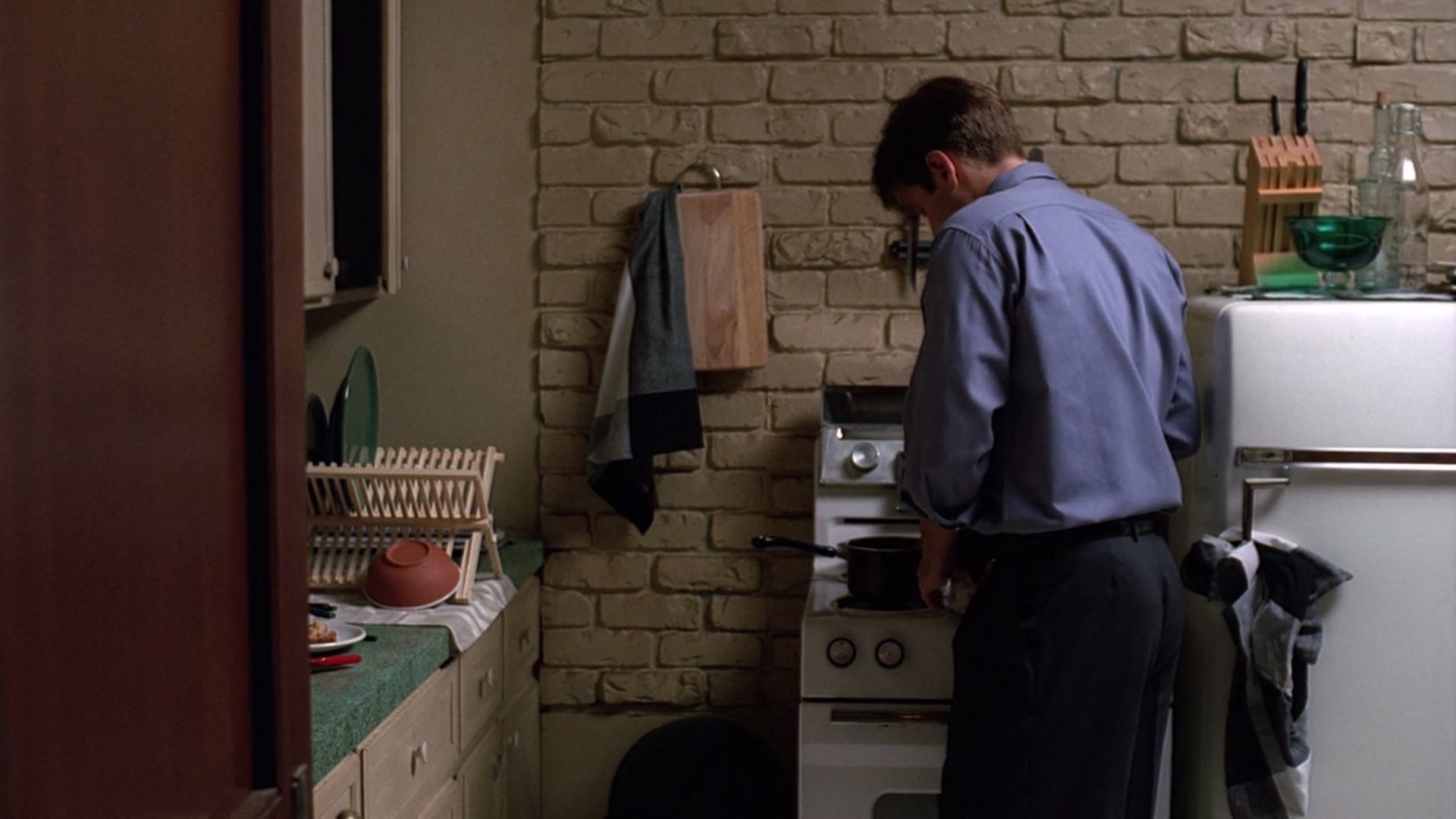 1×12 – Beyond the Sea
And here's Scully's kitchen as she packs up some leftovers after dinner with her parents.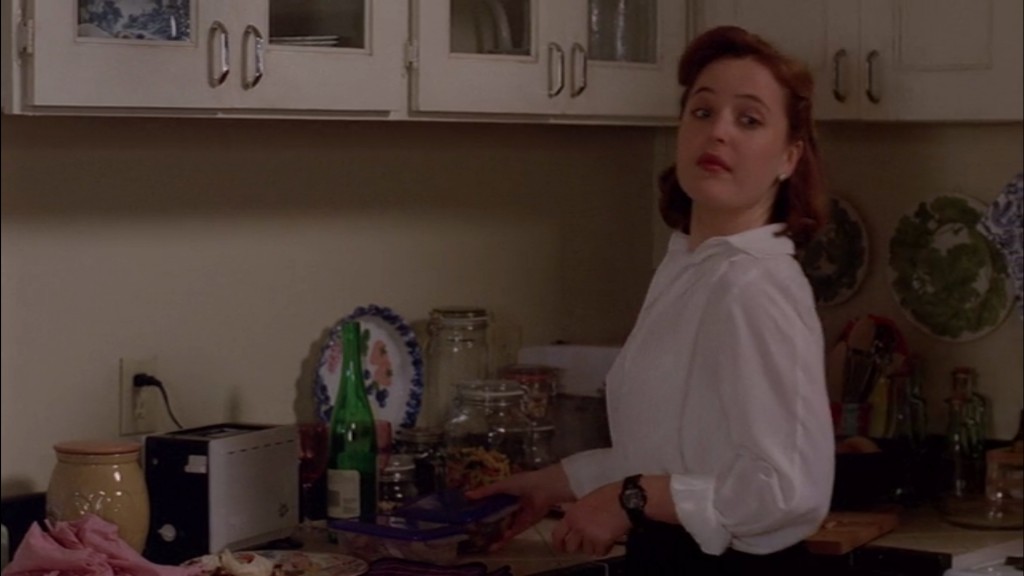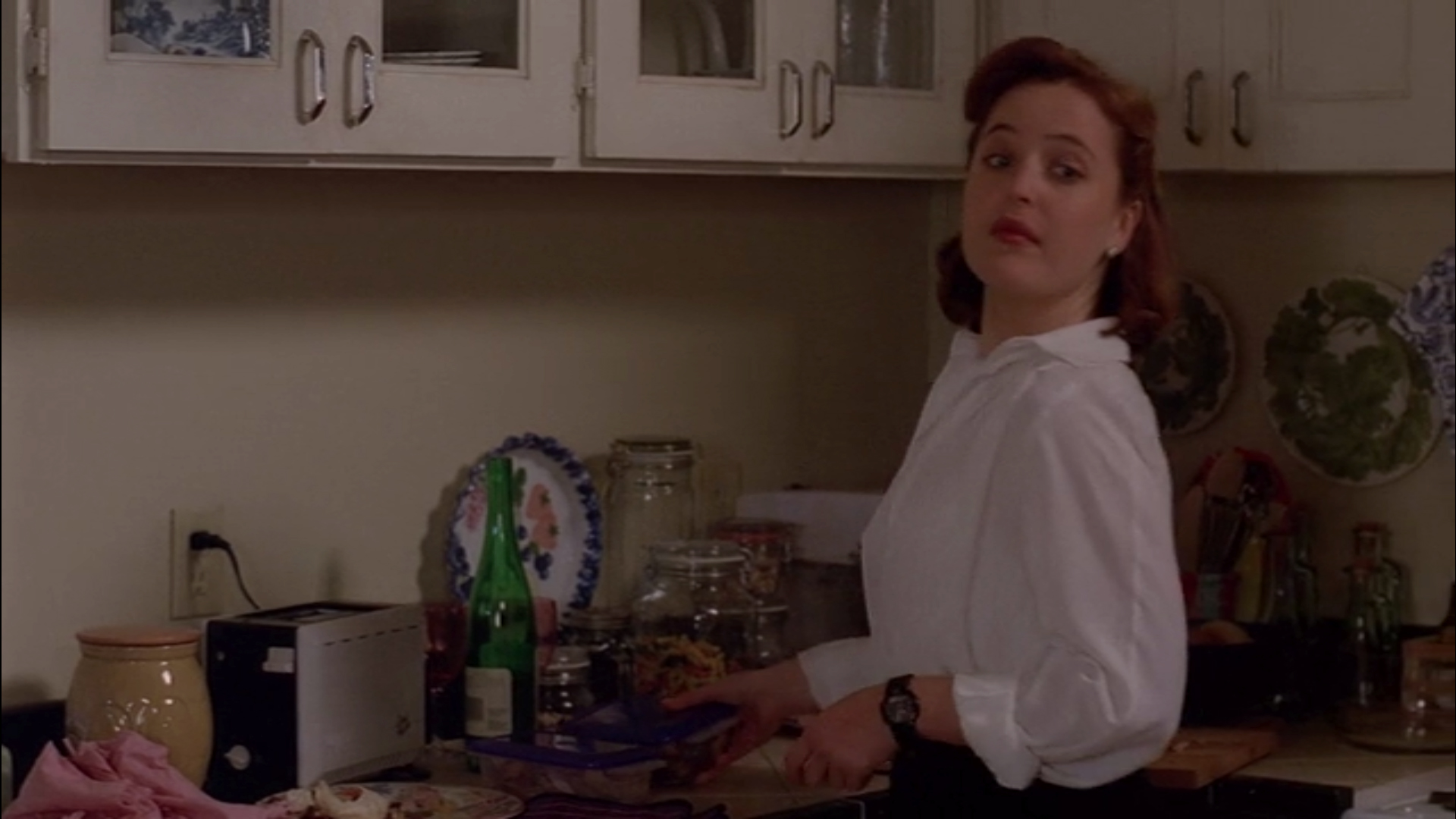 And a little of Scully's Christmas decorating in the background here.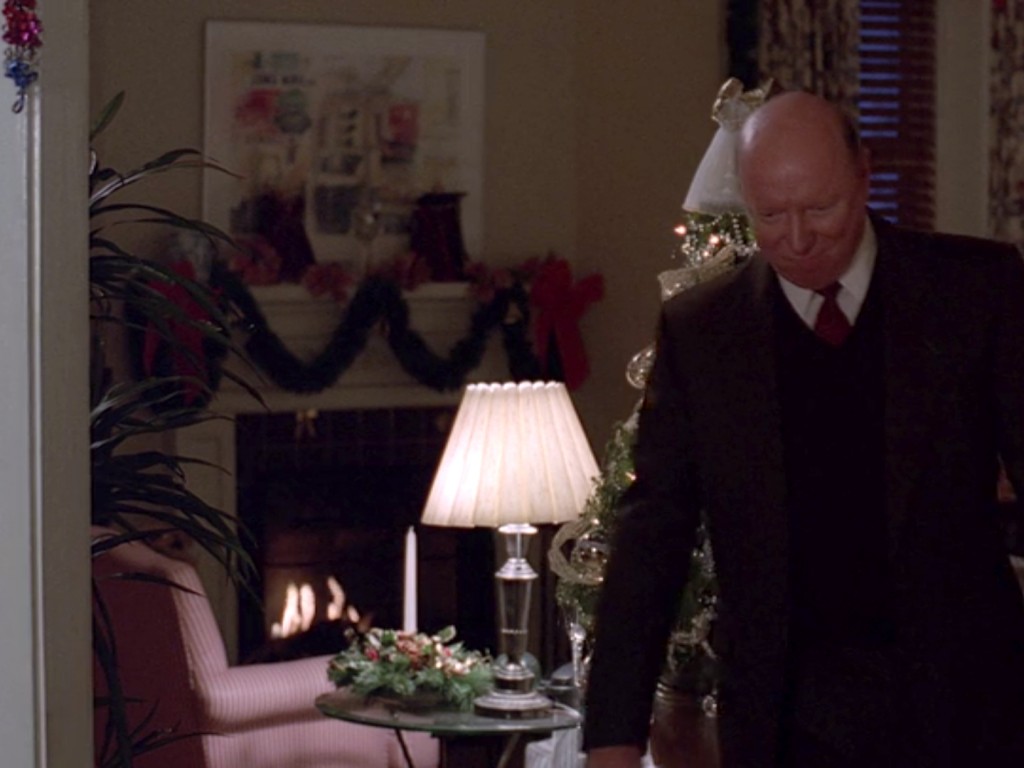 1×15 – Young at Heart
Several shots of Scully's apartment in this episode.  Here she patrols the premises on high alert.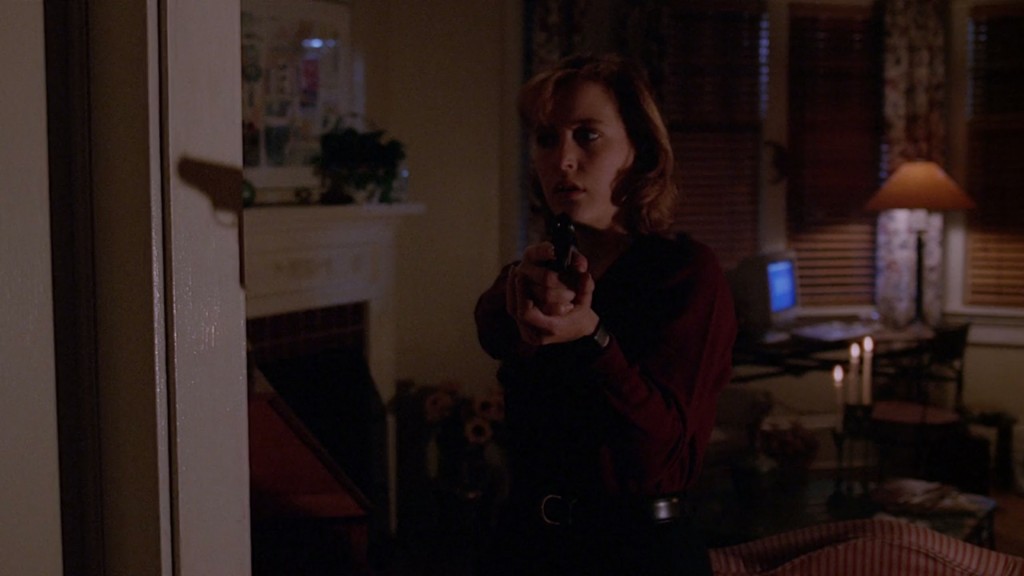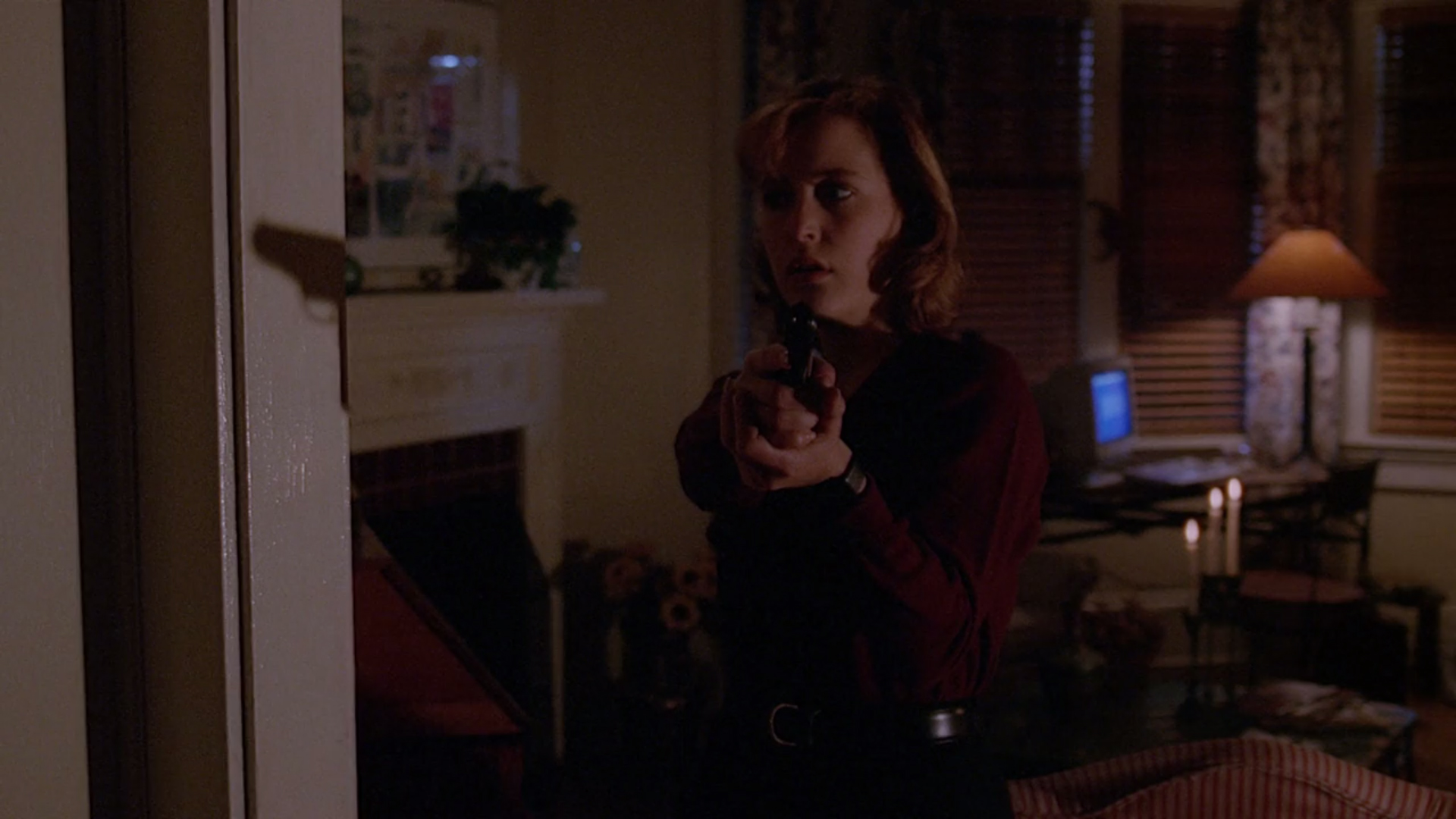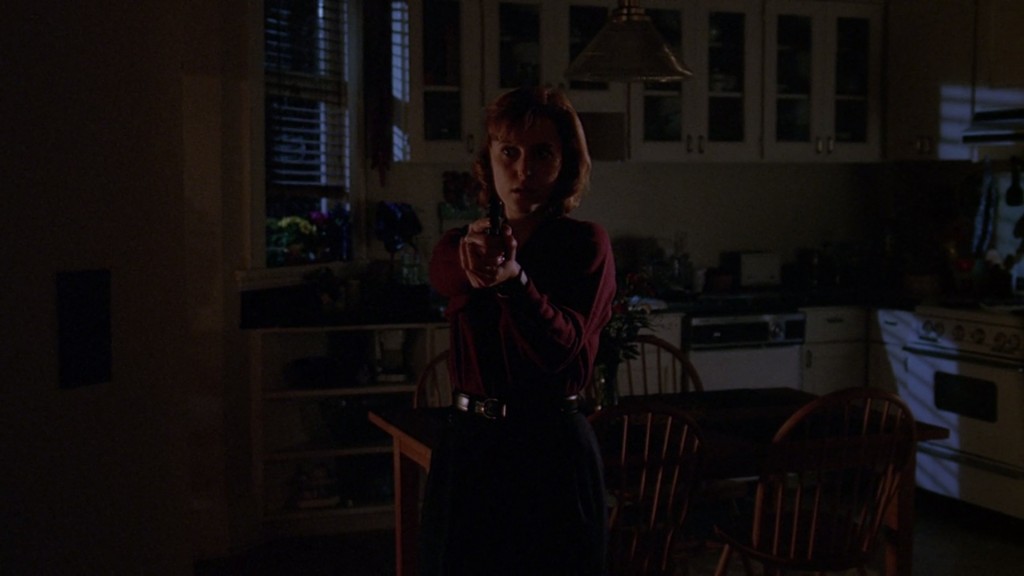 I think we all need to talk about this terrifying cat thing on Scully's wall.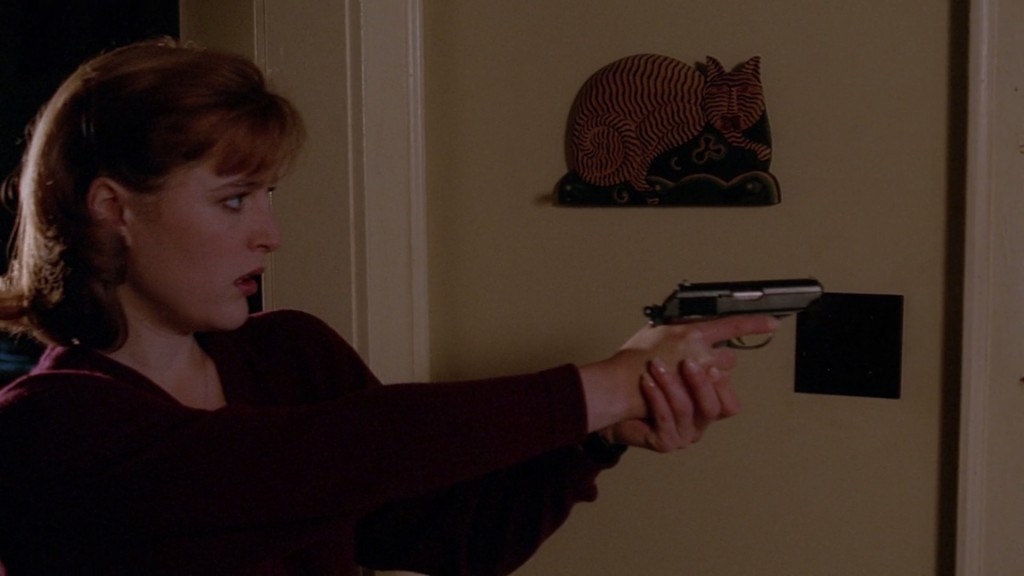 It's almost like people sitting down having a normal conversation… about weird salamander hands.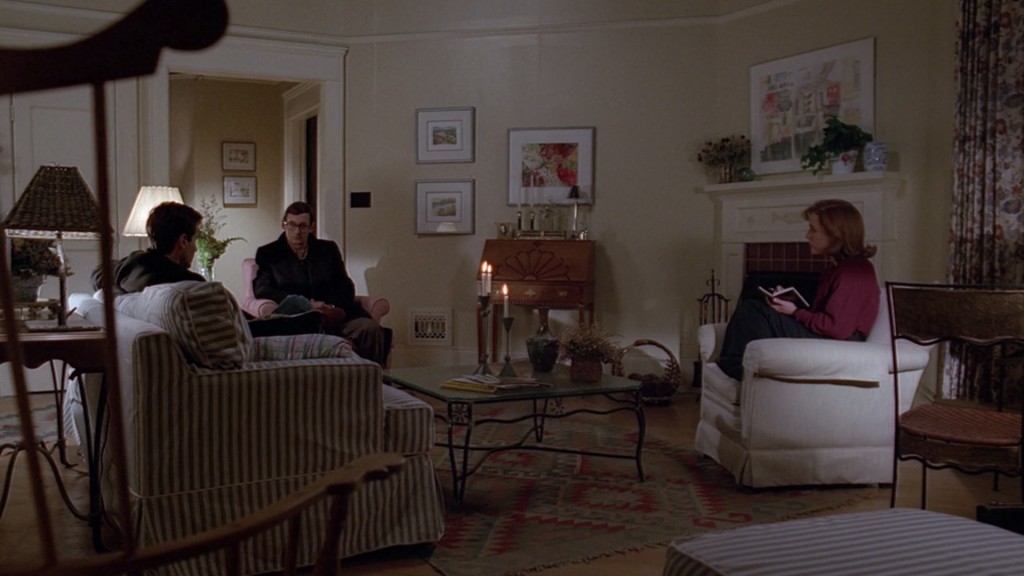 And a nice shot of her kitchen in the morning.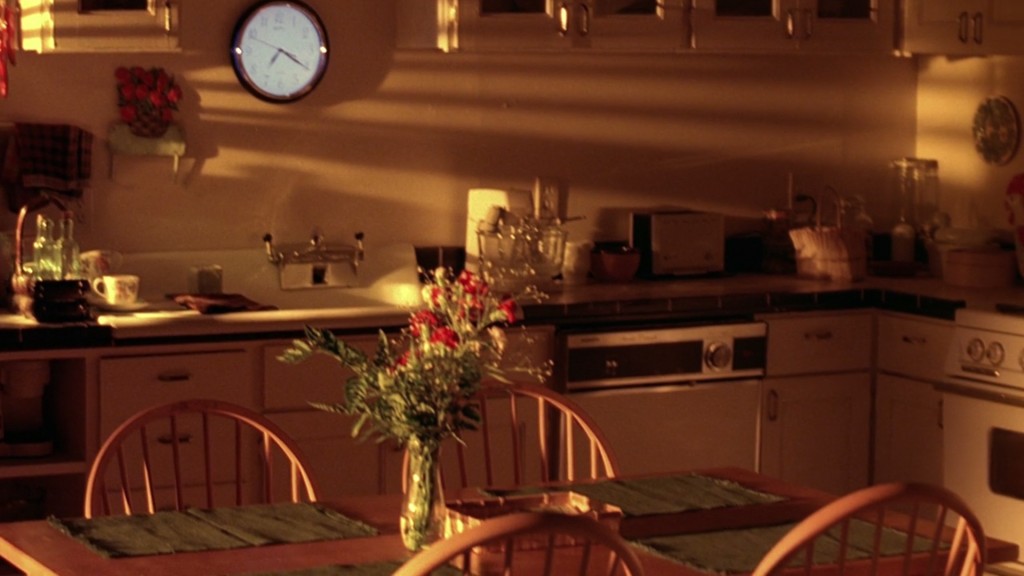 4×20 – Small Potatoes
Scully's kitchen in Small Potatoes.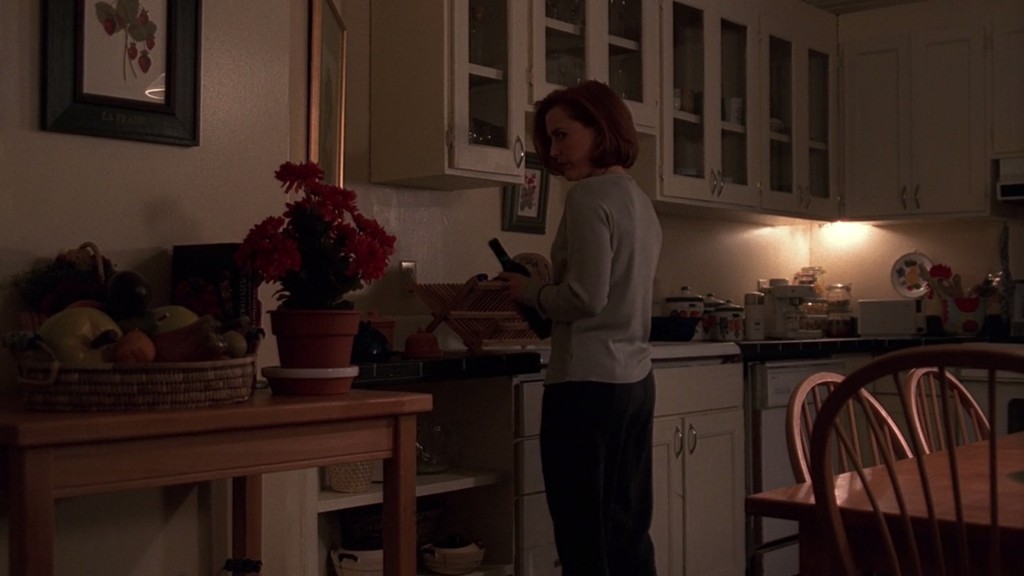 7×07 – Orison
We get to see a lot of Scully's apartment in Orison and since there's some running from room-to-room, it may be a good episode to get a better understanding of the layout (at least as it stands in Season 7).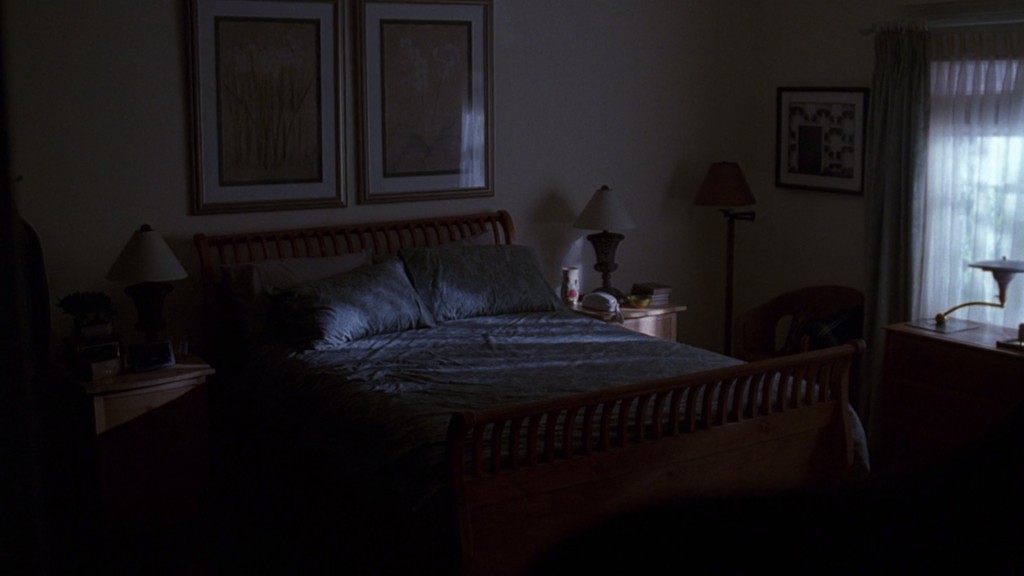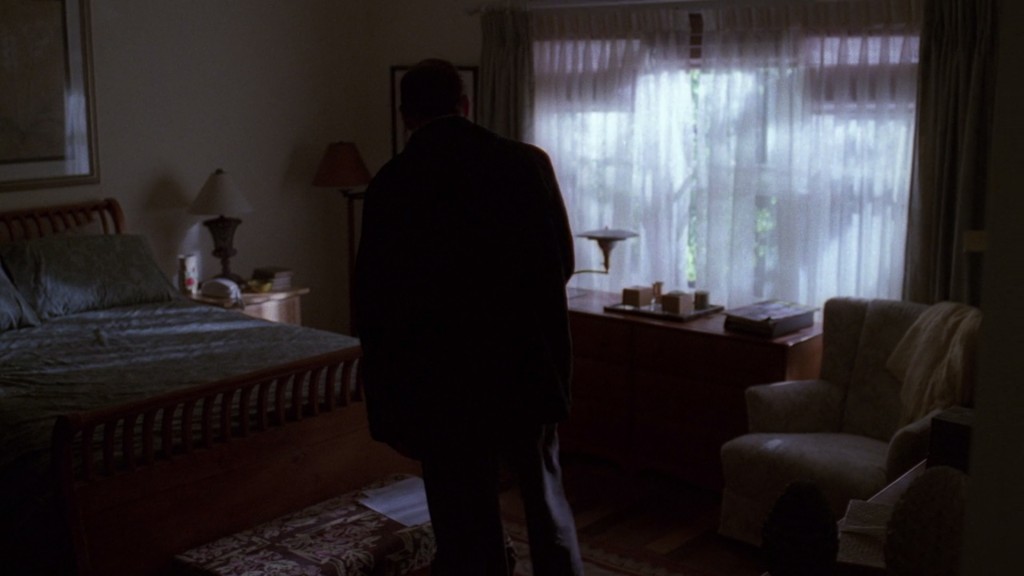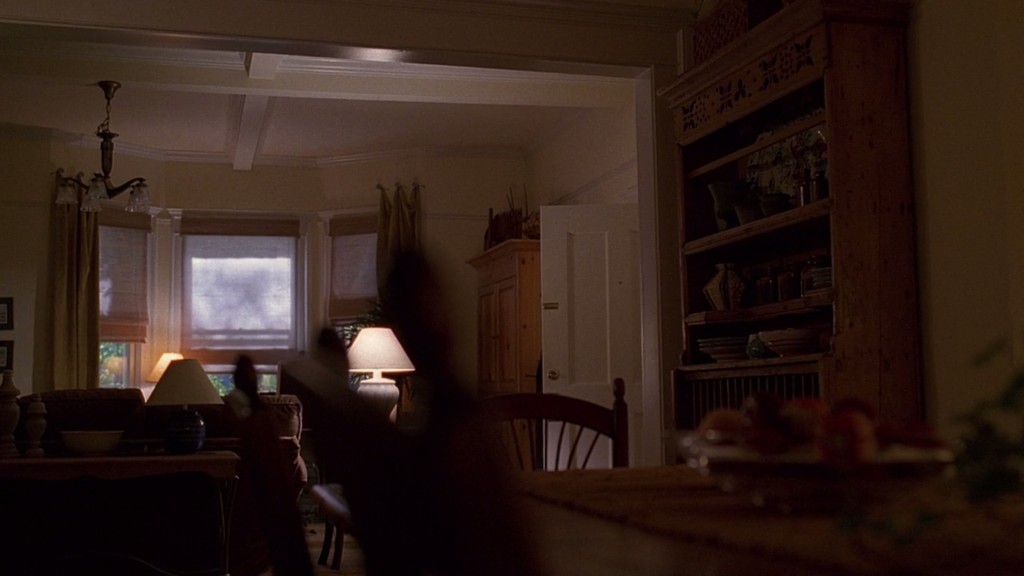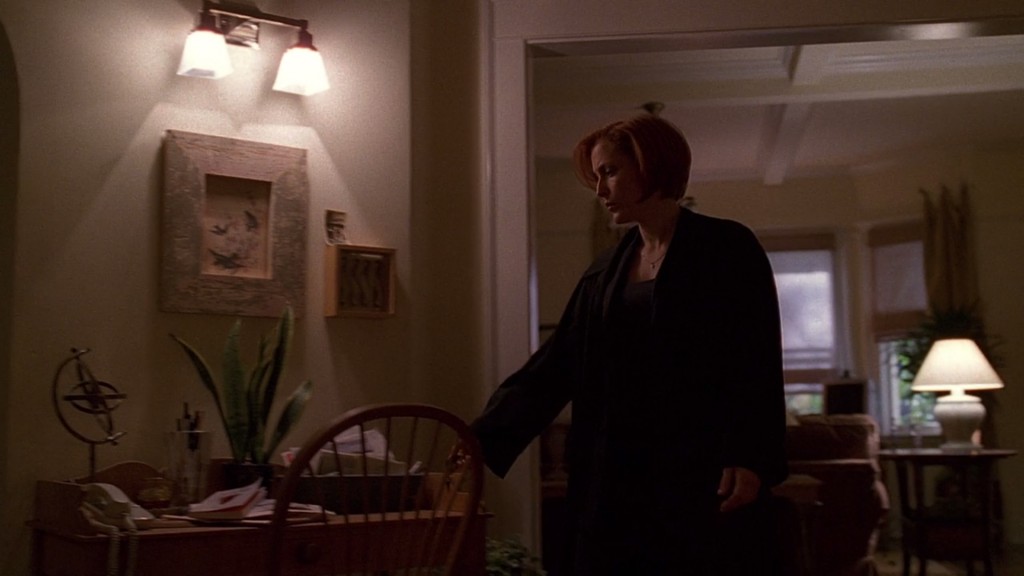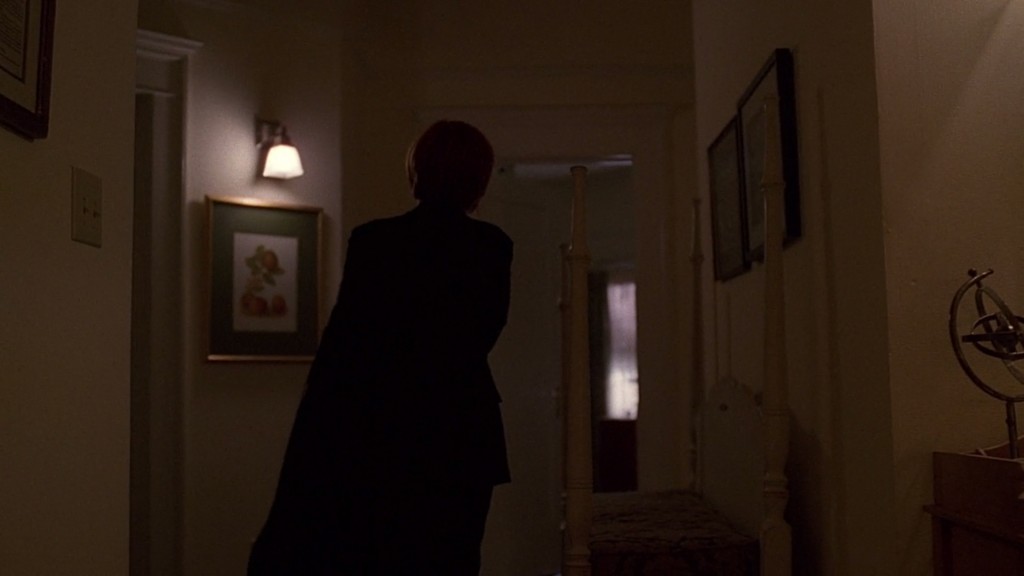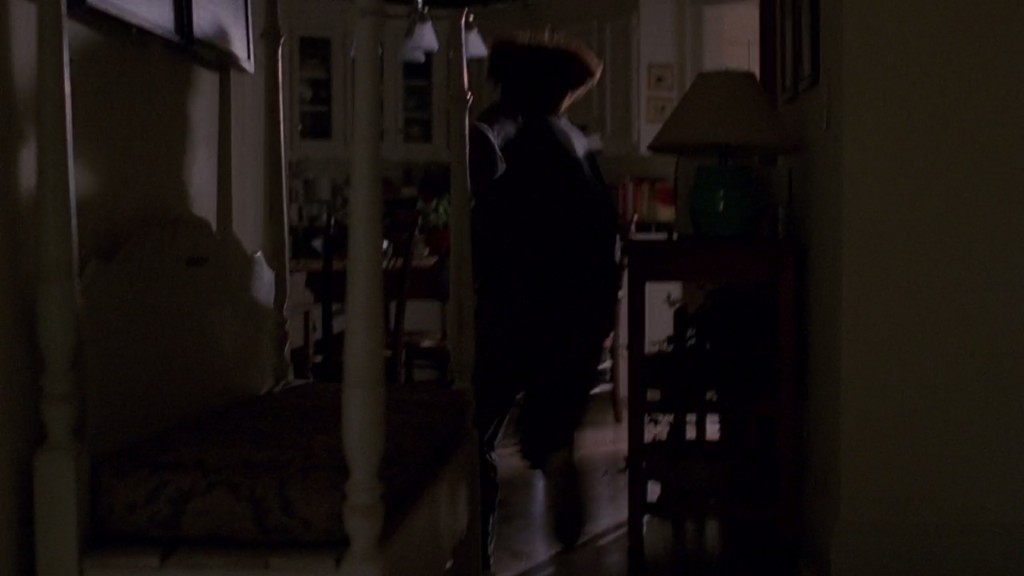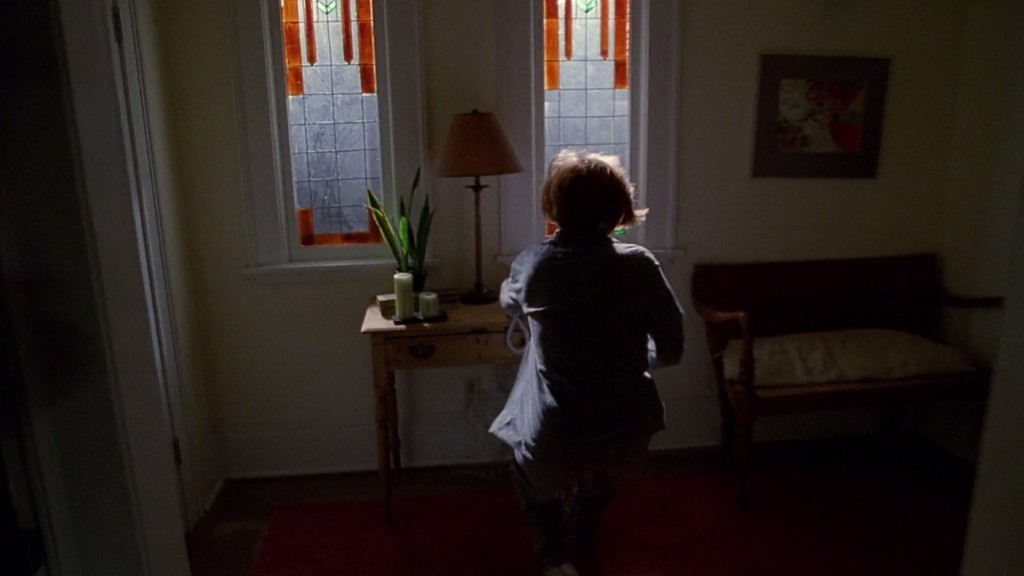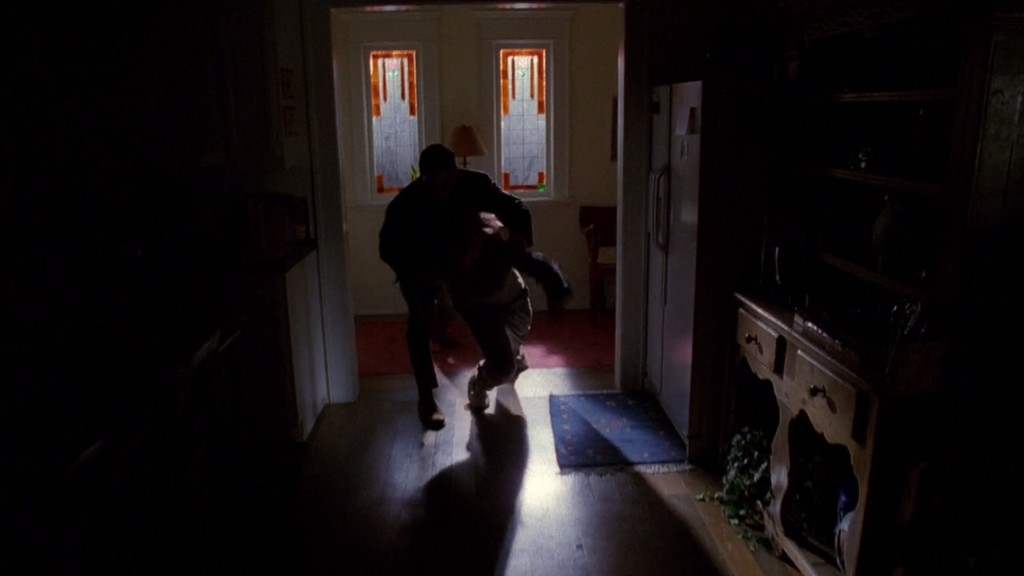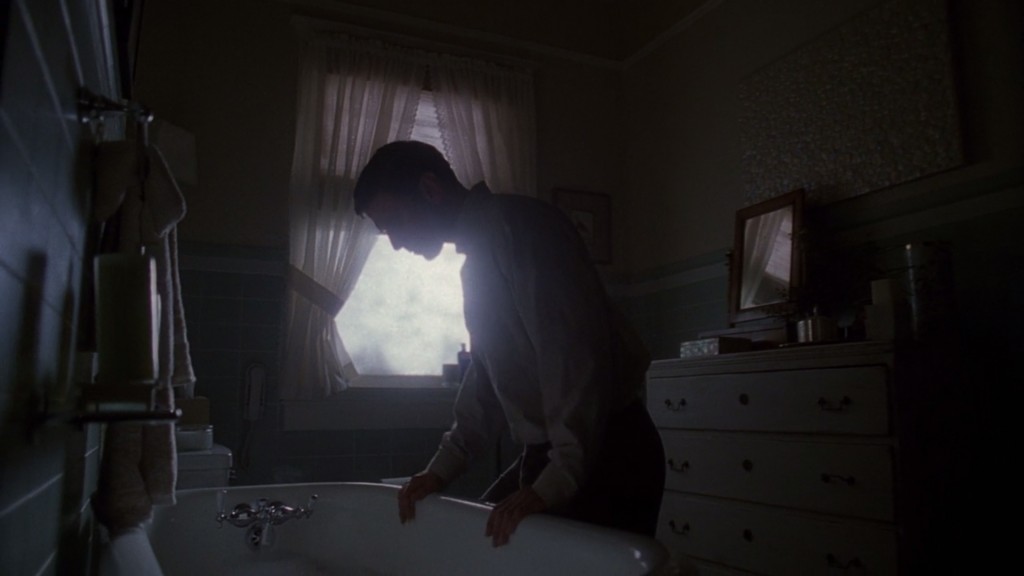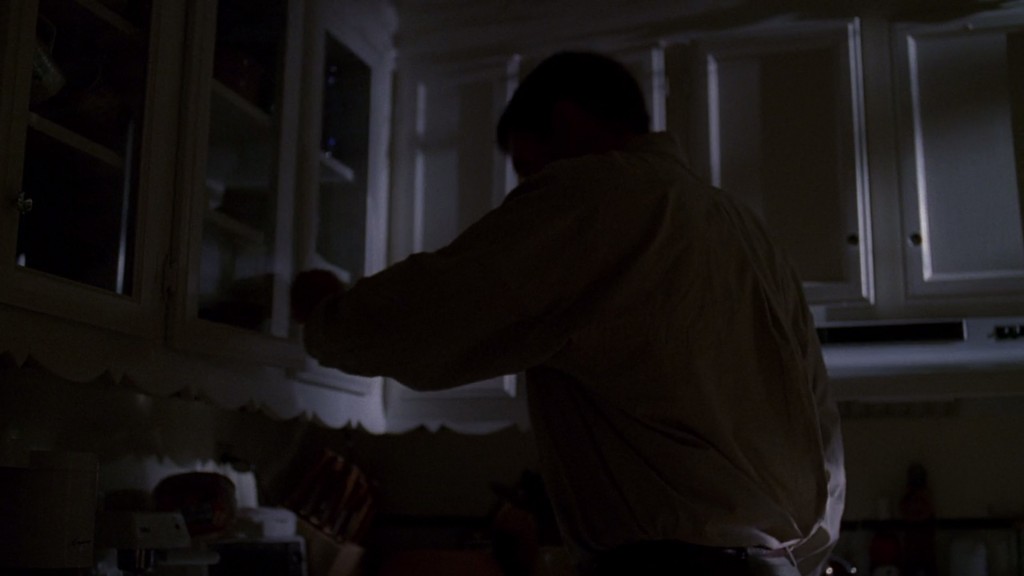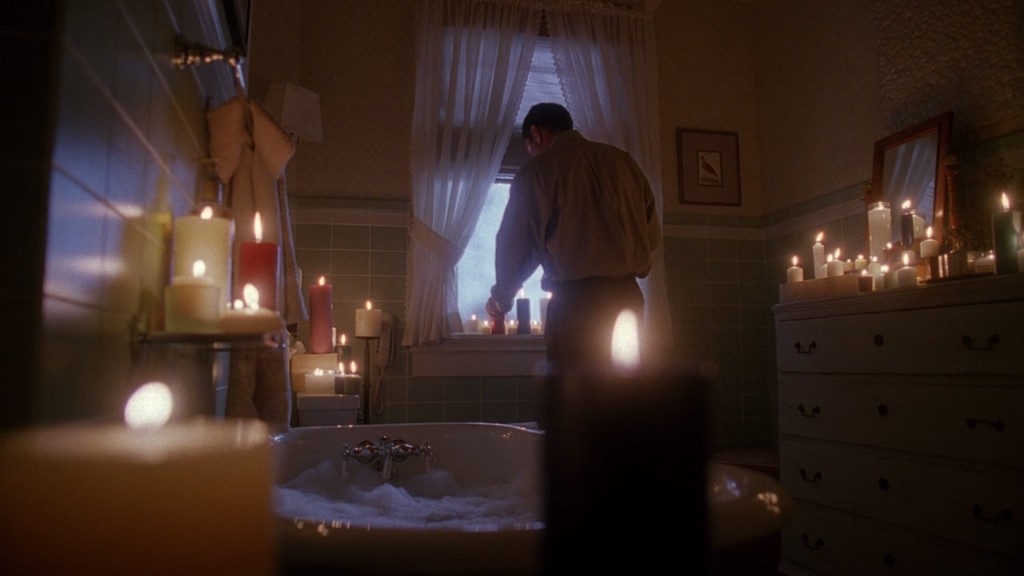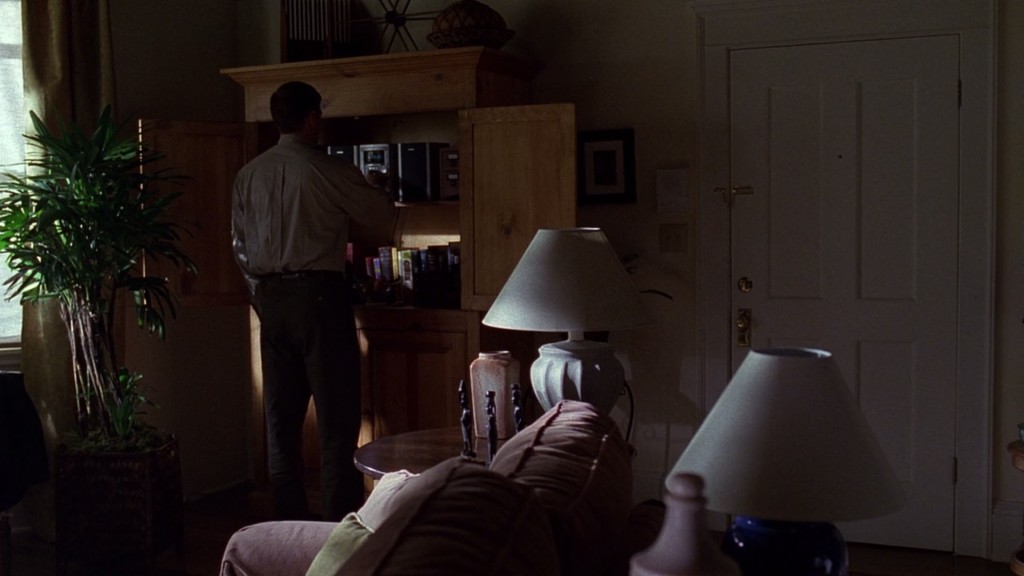 Orison also gives us some nice shots of Mulder's apartment, as well.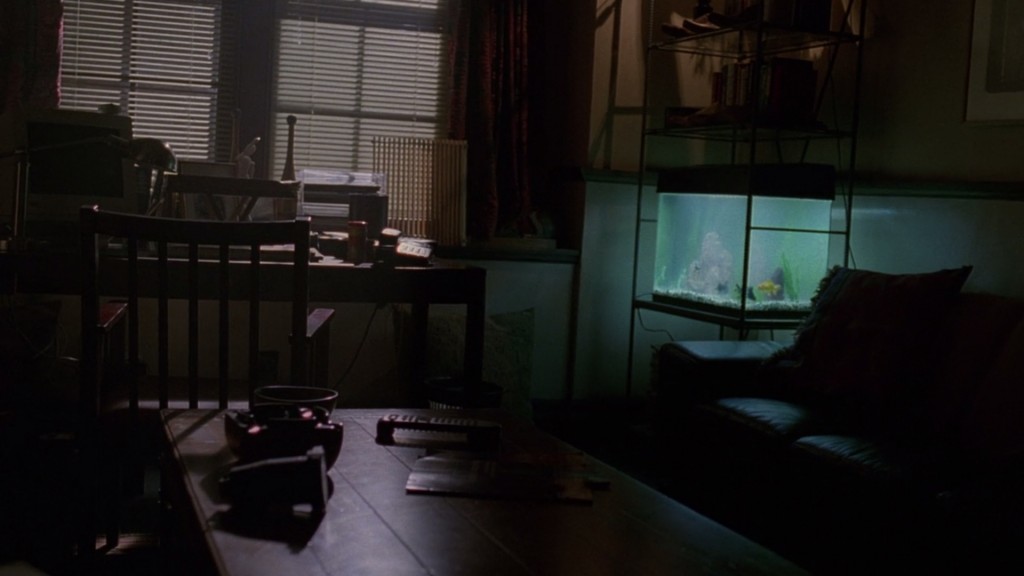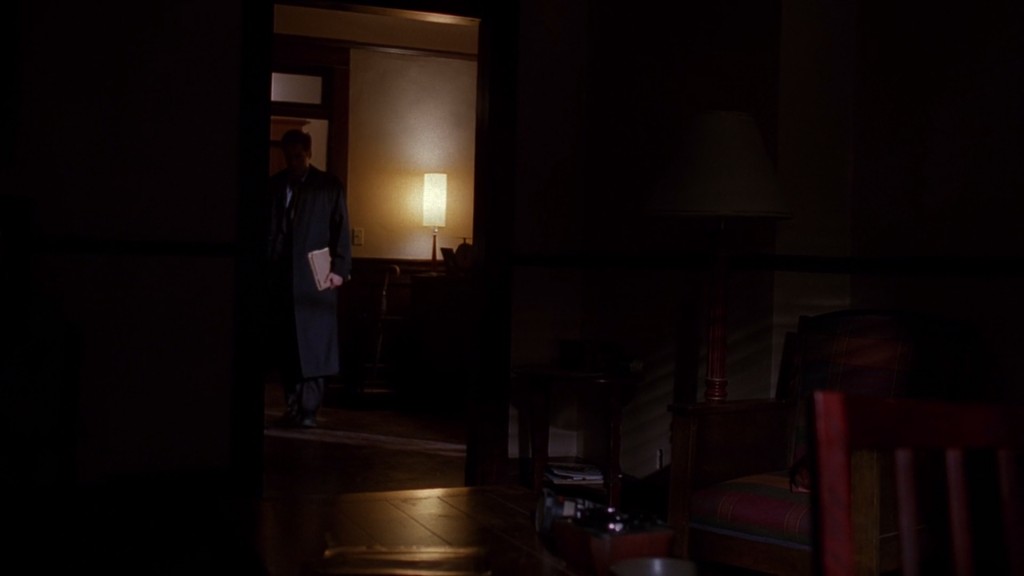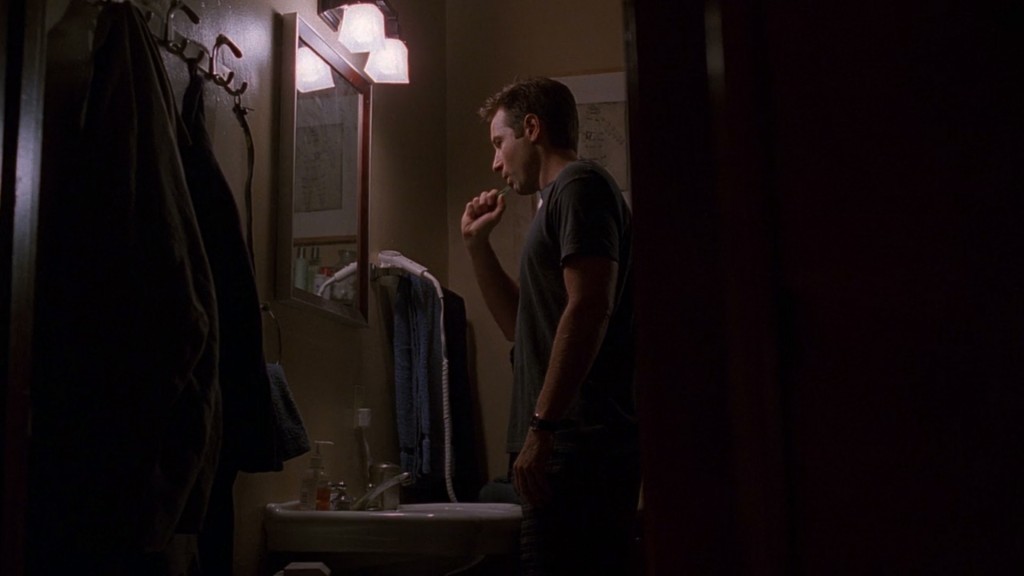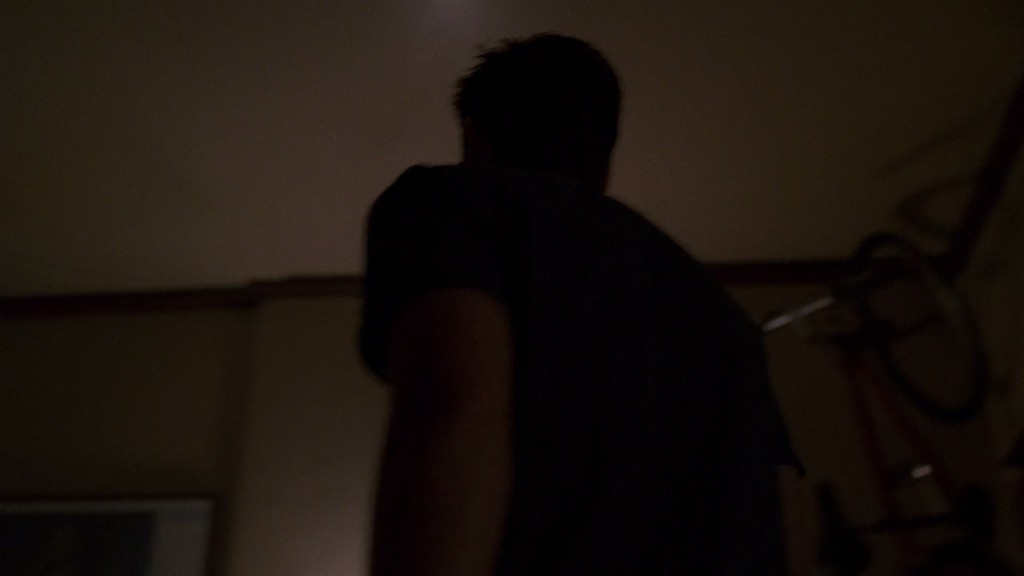 Mulder has a bike hanging in the corner of his bedroom.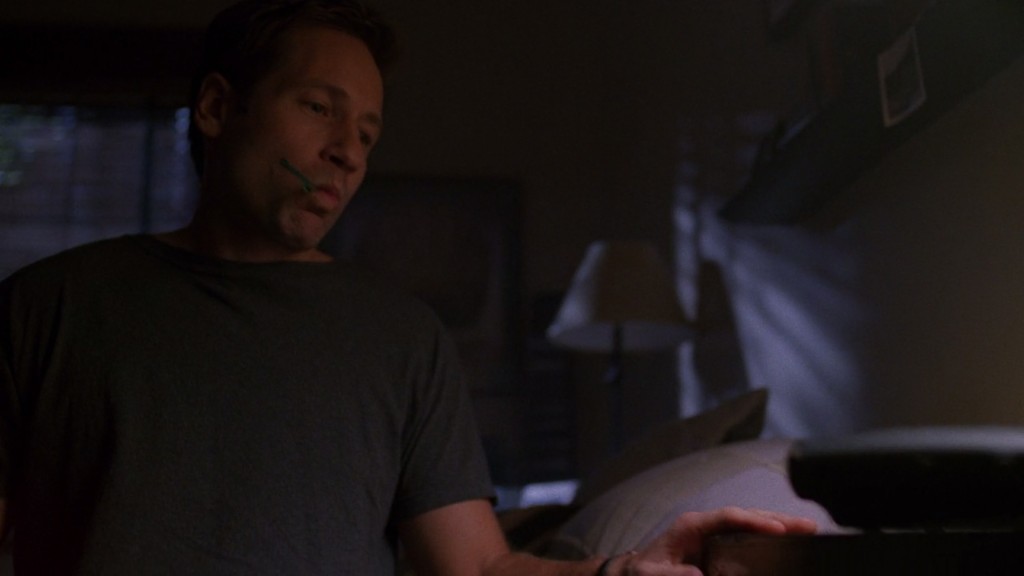 7×17 – all things
A couple nice shots of Scully's apartment, but it's really Mulder's bedroom that steals the show here.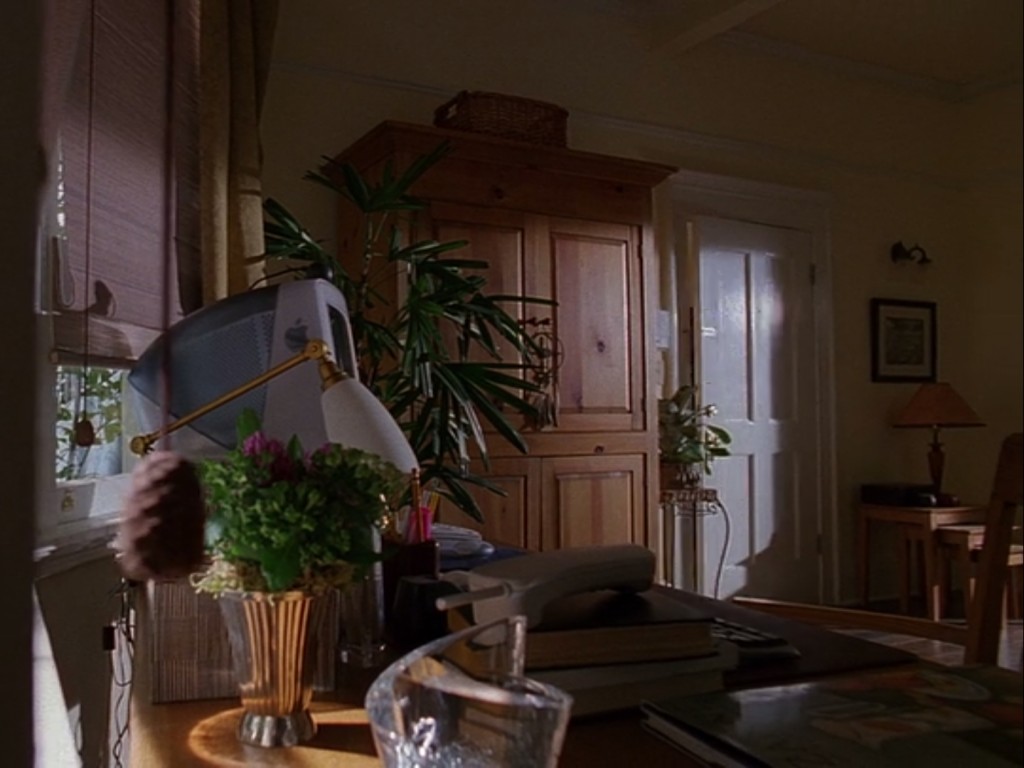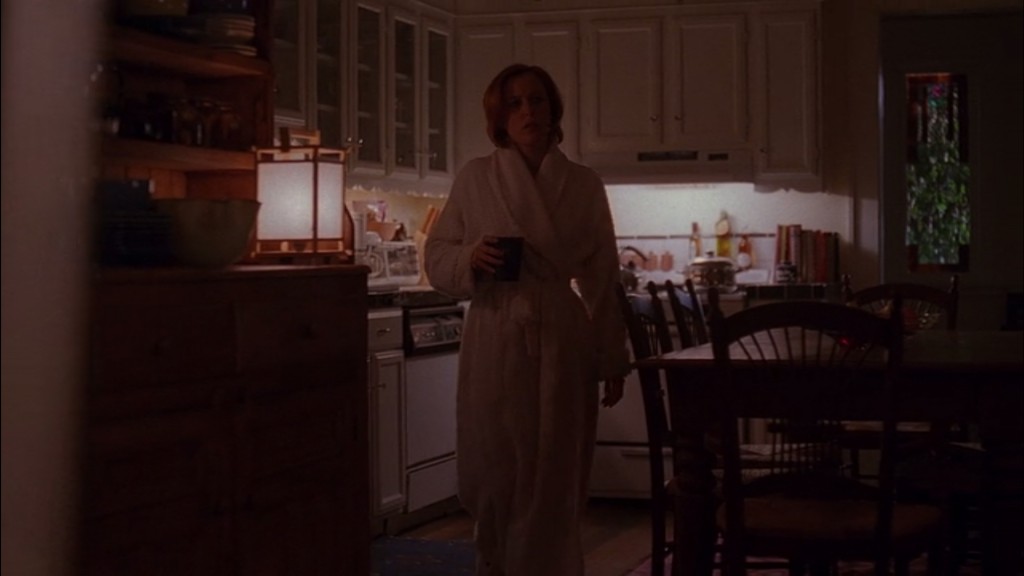 Now for Mulder's apartment…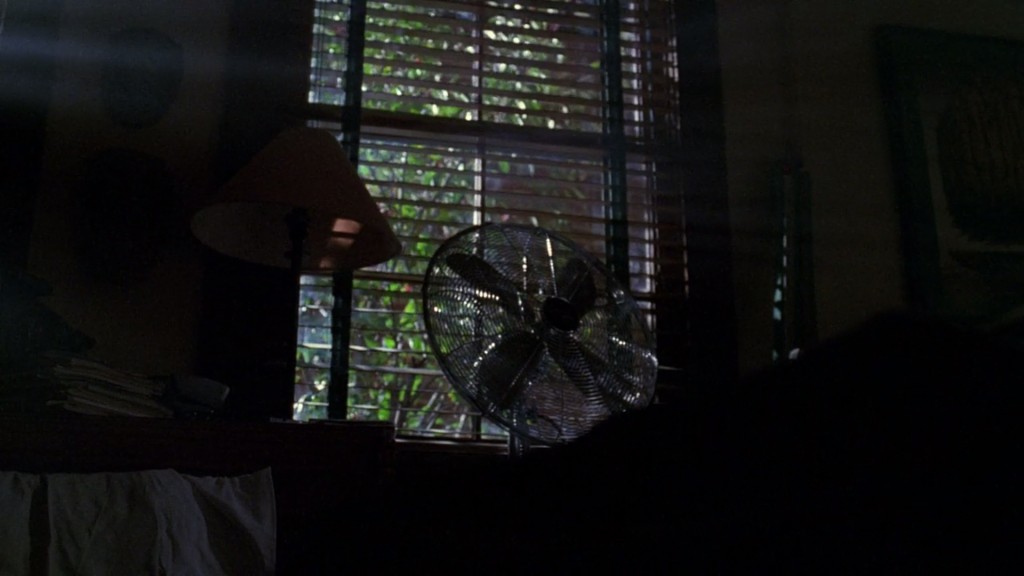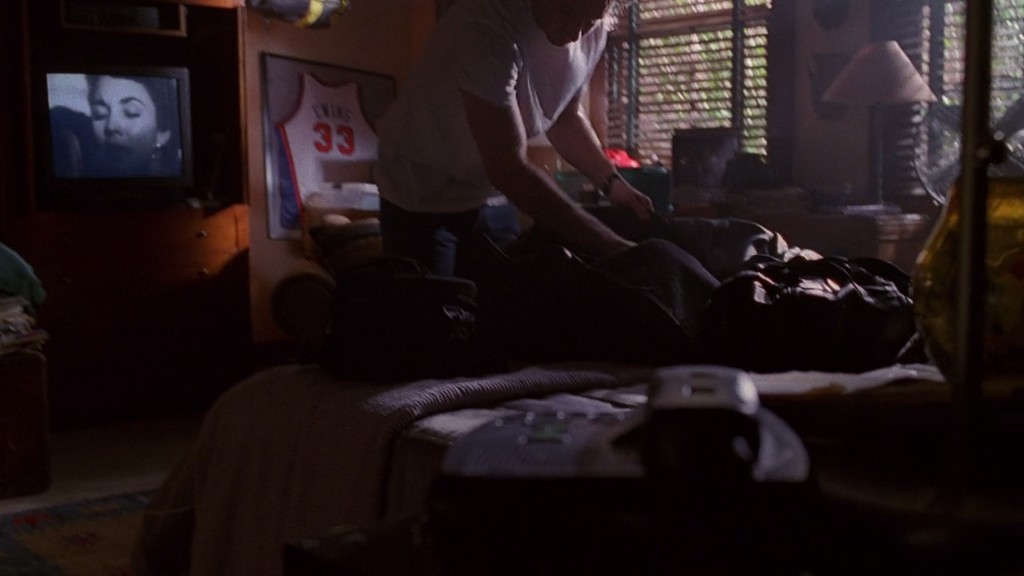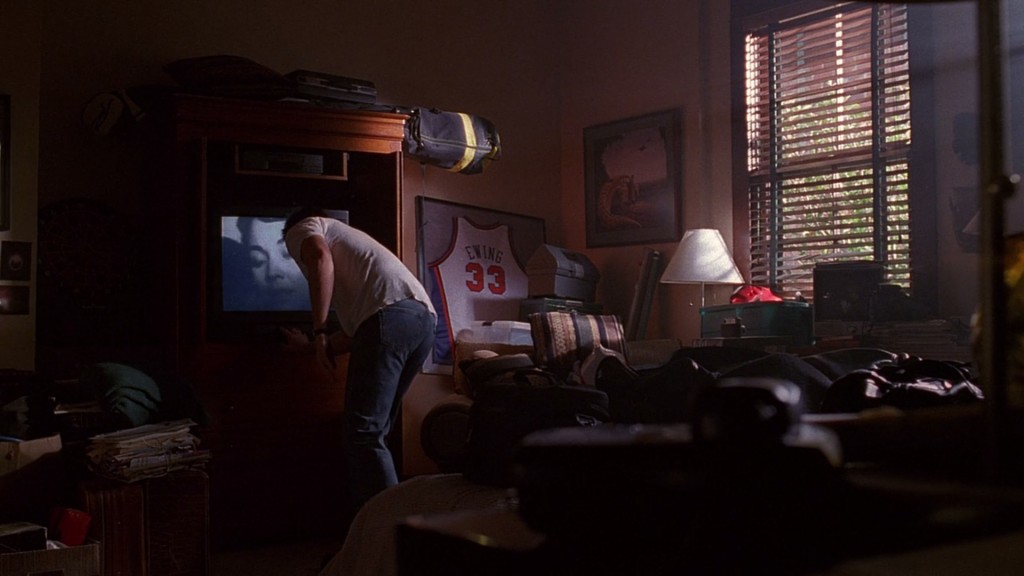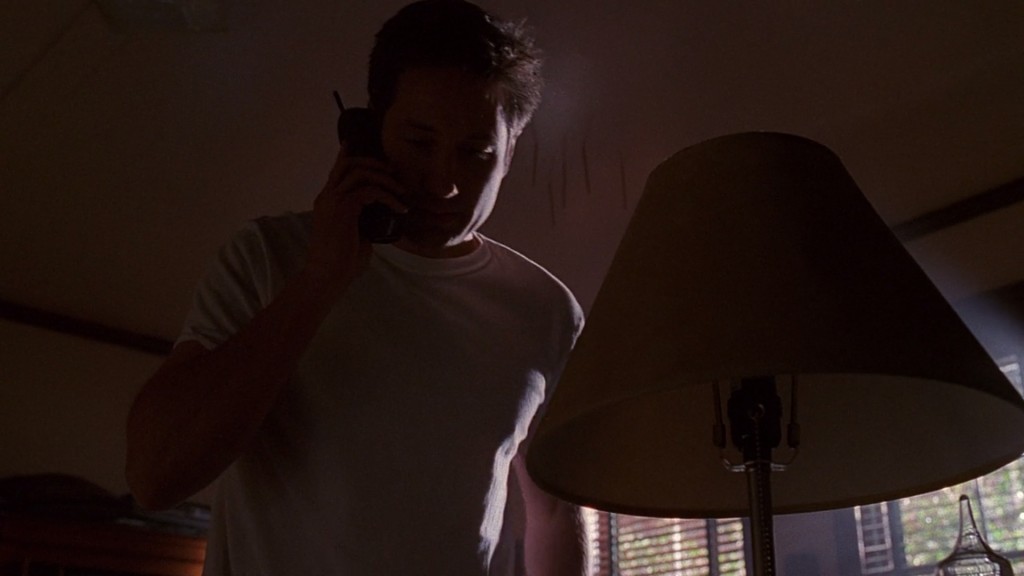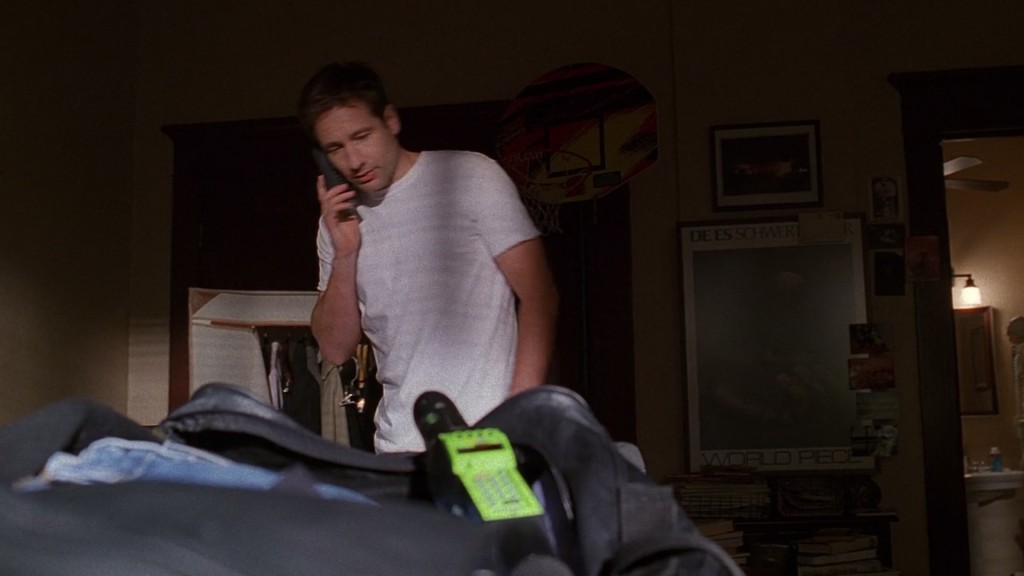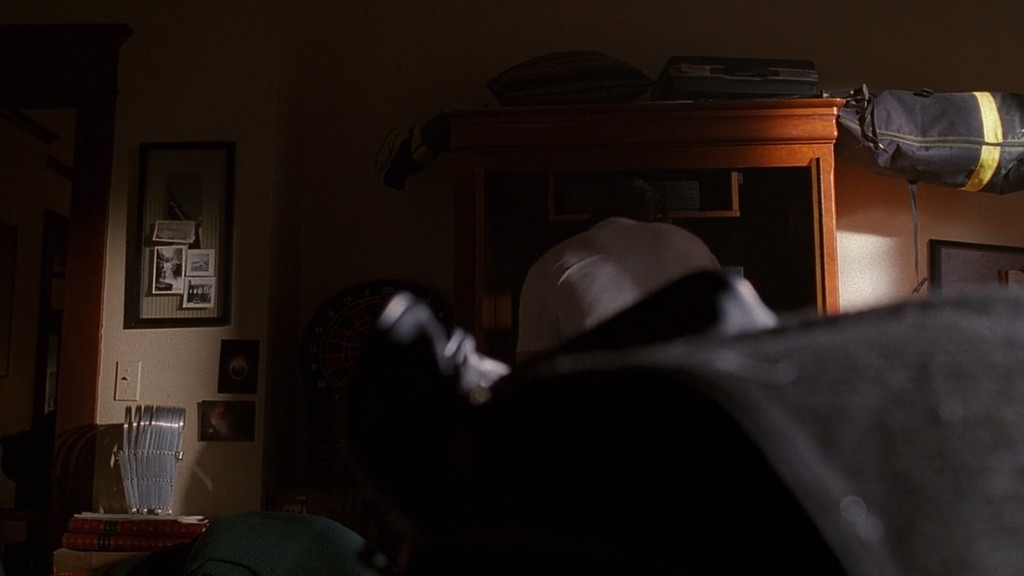 10×05 – Founder's Mutation
Our first look at Scully's new living quarters after moving out of the Unremarkable House.  Is it an apartment?  A house?  A rented out hotel room?  It's not really clear, as we really only see a bedroom with a desk, the drawer of which contains a single photo of William and no sign of any other lived-in clutter.  There's also a floor lamp somewhere to the left.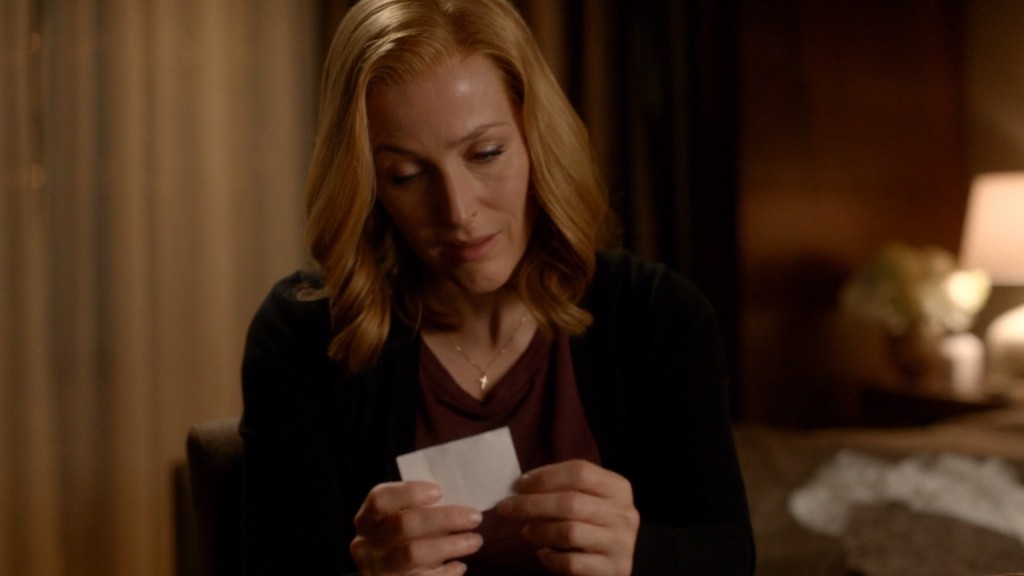 The episode's promo picture from this scene actually provides a slightly better view of the overall layout compared to the tighter shots featured in the final episode.
10×04 – Babylon
A brief shot of Scully's bedroom from Babylon shows the room in some cooler tones with some potentially re-arranged furniture (or whatever that is in the foreground).  What is that white thing on the bed in both episodes?  Could it be Scully's silky pajamas?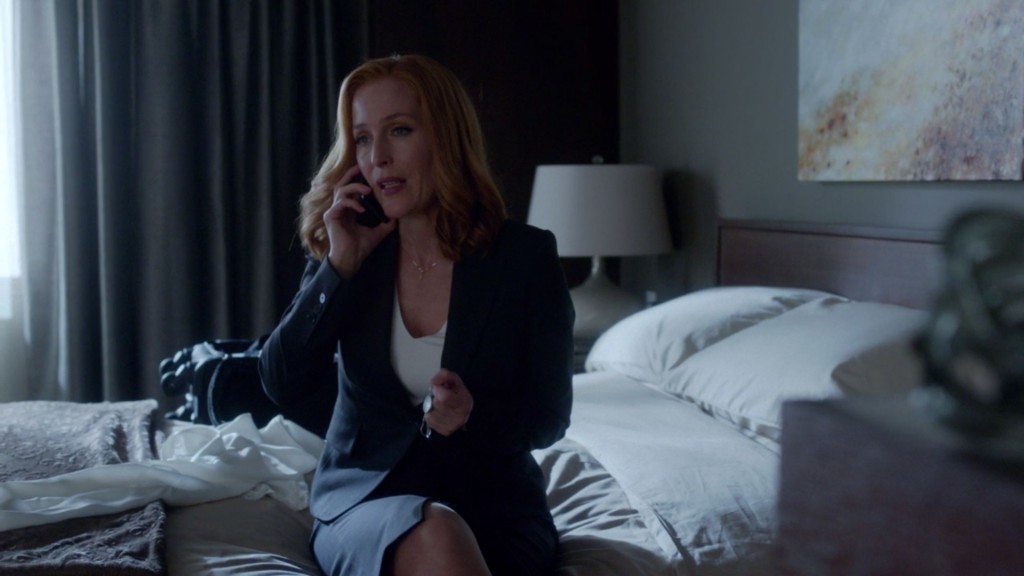 11×07 – Rm9sbG93ZXJz
Rm9sbG9ZXJz gives us the only look at Scully's residence in Season 11, but we get to see quite a bit of it. Also plenty of great interior and exterior shots of the Unremarkable House on top of that.
Nice wide shot of the ground floor from this angle.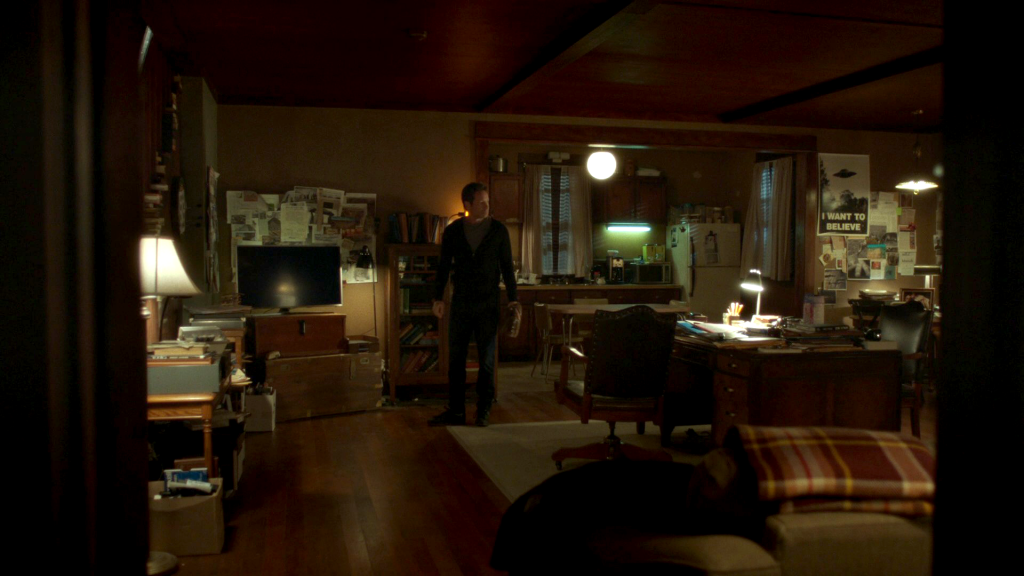 Scully's bathroom.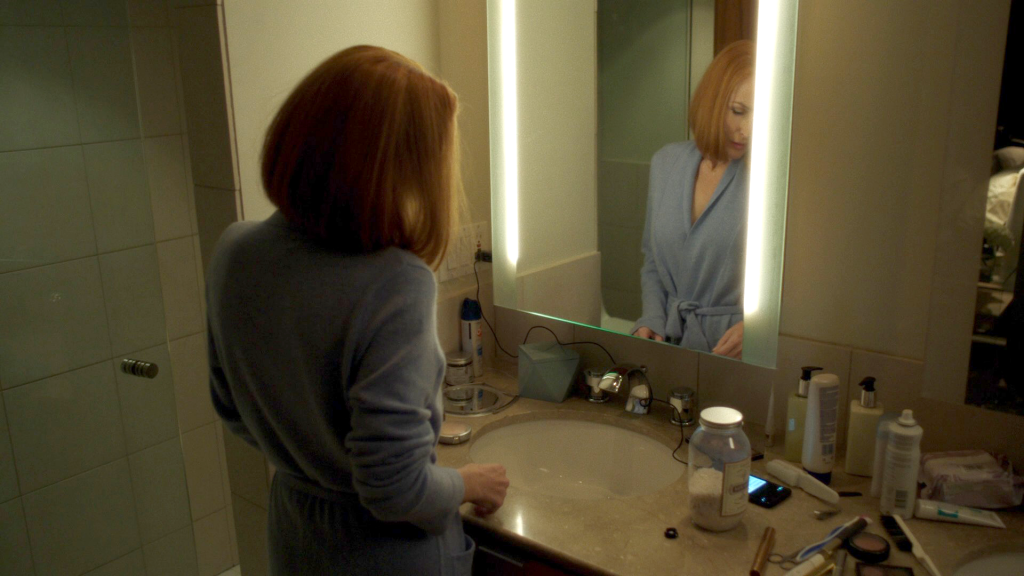 Scully's kitchen.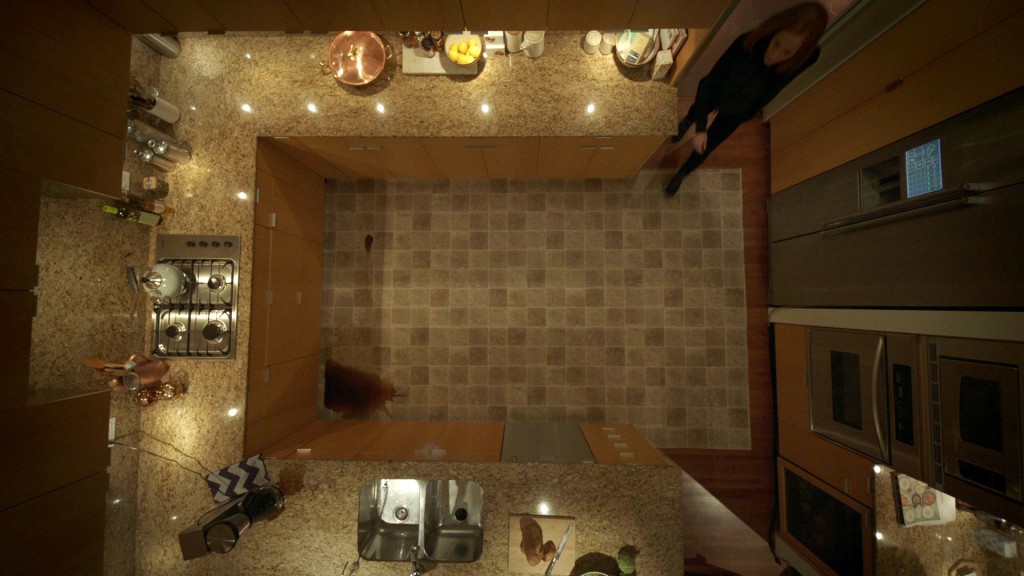 Liked this post? Follow this blog to get more.