"A television cult phenomenon began in 1993 with the creation of The X-Files.  FBI Special Agent Fox Mulder and Special Agent Dana Scully encountered mutants, vampires, aliens, madmen and government conspirators to investigate unexplained phenomena contained in what the FBI labeled the "X-Files", cases that defied traditional explanation. These all-new Series 2 X-Files PALz action figures feature great well-loved characters and some incredible fan favorites from the creepy and compelling series, and prove once again that "The Truth is Out There."

— PALz Series 2 Case
In this post we're taking a look at the second set of The X-Files PALz block figures.  For the first set and general history of the PALz line, check out The X-Files PALz Figures – Series 1.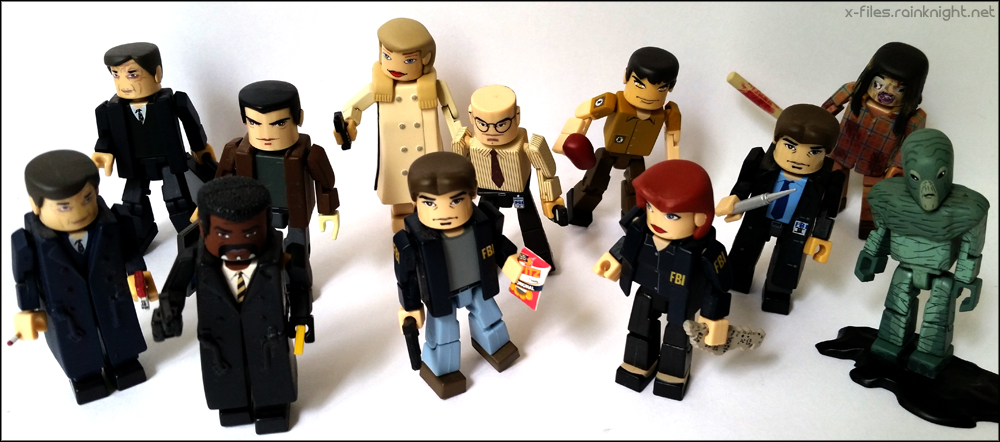 The second and final set of The X-Files PALz figures arrived about nine months after the first, in November of 2005.  During this time, the decision was made to switch from the nicely designed blister packs of Series 1 to blind packaging for Series 2.  While blind packaged figures are common in North America now, this was an unpopular decision among fans back in 2005 who didn't want to spend a fortune buying random characters in order to complete the set.  In addition to the blind packaging, the chances of acquiring a chase figure had also grown slimmer.  Whereas the three chase figures in Series 1 were limited to 1 per case of 24, the six chase figures in Series 2 were limited to either 1 in 32 or 1 in 64.

But perhaps the blind packaging did have one silver lining:  It forced you to open the figures up and play with them!  The Series 1 packaging was perhaps a little too nice.  They looked great on display in the package, so why ruin that by taking them out?  But at the same time, the point of the figures was to pose them and play with them and make use of all of those neat little accessories, and blind packaging by its very nature forces the customer to open it just to see what's inside.
While both series seem to have received a relatively small production run, figures from Series 2 tend to appear even less frequently than Series 1 in the aftermarket, leading me to believe that this series may have been even more limited than the first.  Either that, or perhaps spread a little more thin, as this series contained 14 different figures compared to the 11 from Series 1.  Like Series 1, the base set contained eight different figures, but here we have six chase figures instead of three, with four of them being variants of figures in the base set, and two being entirely new figures (Alex Krycek and Marita Covorubius).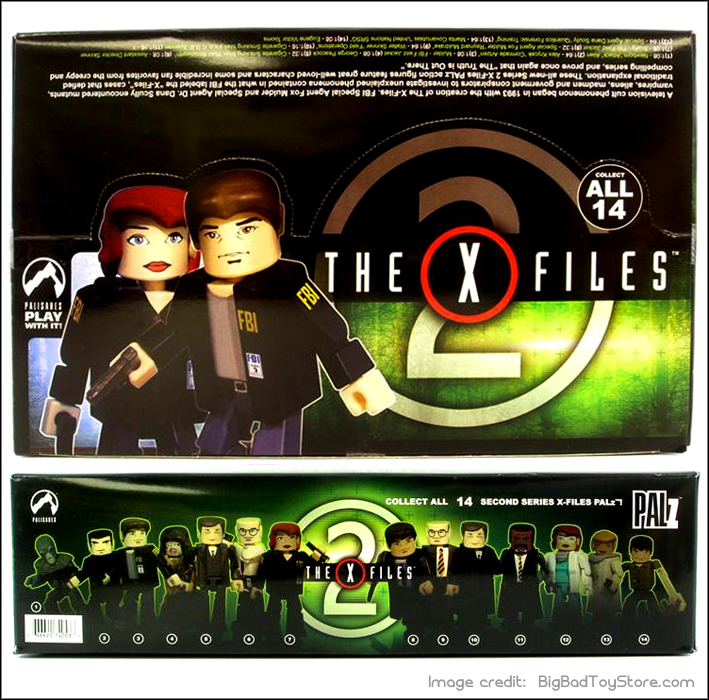 The individual packaging divides the second series into two categories, separating the standard and chase figures by rarity.  They're listed as follows:
X-Files PALz Series Two
1:8 Mulder – FBI Field Jacket
1:8 Scully – FBI Field Jacket
1:8 Assistant Director Skinner
1:8 Newborn "Attack" Alien
1:8 George Peacock
1:8 Eugene Victor Tooms
1:16 Cigarette Smoking Man
1:16 X
X-Files PALz Limited Edition Chase Figures
1:32 Special Agent Fox Mulder "Reynard Muldrake" (Mulder in suit with trench coat)
1:32 Cigarette Smoking Man "Raul Bloodworth" (CSM with briefcase [no trench coat])
1:64 Walter Skinner "Field Operations" (Skinner in trench coat)
1:64 Special Agent Dana Scully "Quantico Forensic Training" (Scully in scrubs)
1:64 Alex Krycek "Comrade Artzen" (a misspelling of Krycek's alias "Comrade Arntzen")
1:64 Marita Covarrubias "United Nations SRSG"
Overall, of the 14 Series 2 figures, 10 are unique characters, and the only characters repeated from Series 1 are the new versions of Mulder and Scully.  As far as variety of characters, this would put the PALz Series 2 set just behind the recently released set of The X-Files Titan vinyl figures, which contains 12 unique characters in its base set (the four chase figures are all variants of existing characters), though the combined Series 1 and 2 PALz end up beating it with 16 unique characters between the two.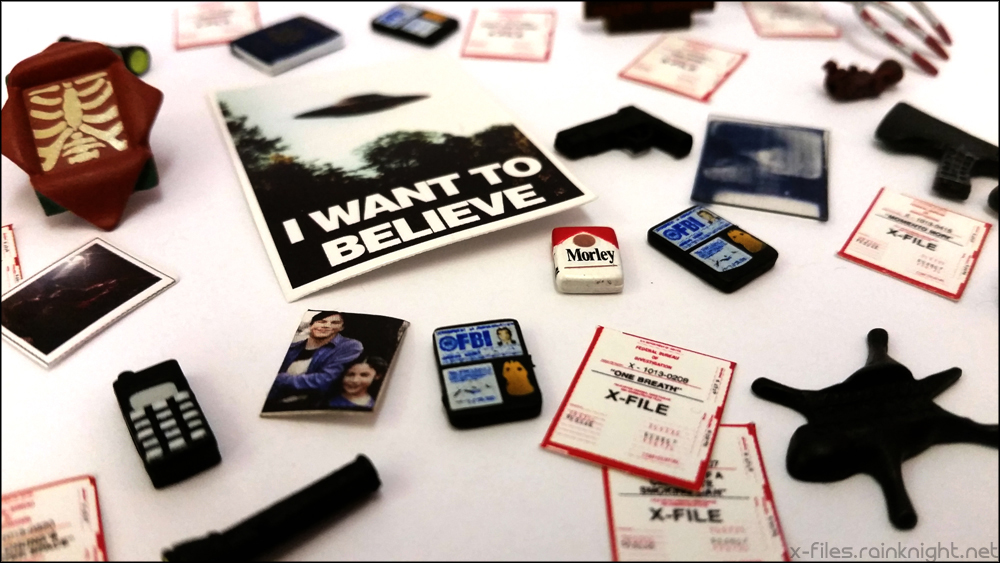 One of the highlights of the PALz figures are the various show-specific accessories.  Each figure comes with its very own little paper X-File based on an episode of the show, usually one that in some way relates to that particular character.  There are also the standard sort of accessories that we've seen other figures come with such as guns, FBI badges, flashlights, and cell phones, but the PALz line isn't afraid to tap into the details of each episode for some more unique (and occasionally disturbing) items.  Tooms comes with an extra set of stretchy arms and a roadkill snack, and CSM comes with an alternate hand holding a cigarette and a pack of Morley's.  Mulder's iconic sunflower seeds and "I Want to Believe" poster are there, as is the classic photo of Fox and Samantha Mulder as kids.  The Alien comes with an alternate chest plate that can fit over any character's torso, just in case you need to simulate its "birth."  Scully comes with an amusingly bizarre PALz version of the x-ray film of her brain tumor from "Momento Mori," and George Peacock comes with a bloody ax, pitchfork, and baseball bat, as well as a little block figure version of a deformed dead baby.  Uh…  Let's just not mention that last one to LEGO when trying to defend The X-Files from getting shot down for not being a family-friendly property…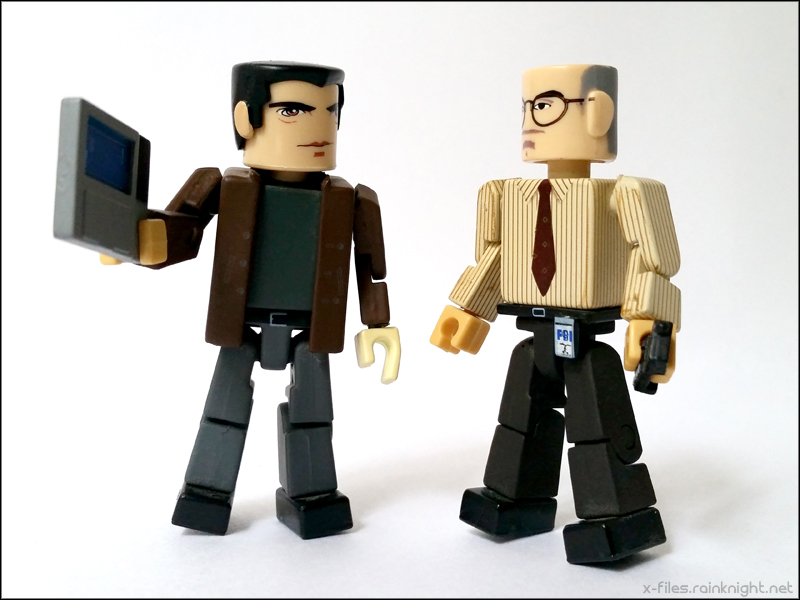 Despite their small size, the PALz line of figures is pretty well articulated and fairly poseable.  Their arms and legs have a decent range of motion, and they can bend at the knees and elbows and rotate the hands and feet.  The blocky heads can rotate and tilt slightly, and the hair/ear pieces are removable.  They can technically be moved a bit at the waist, though that is often limited by longer shirts and jackets.  Like most block figures, the pieces can come apart and are interchangeable between figures.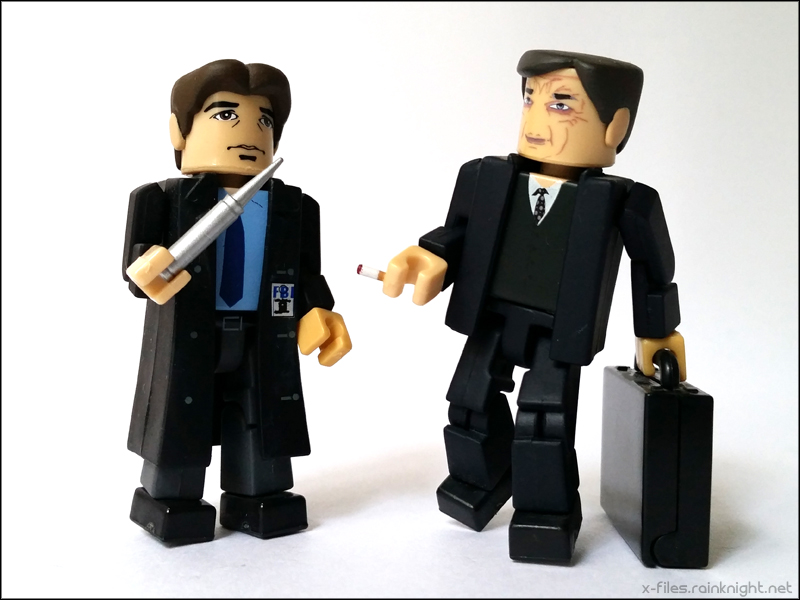 On the downside, however, the flexibility of these figures seem to come at the cost of fragility.  While they're certainly meant to be played around with and put in fun poses, they can really only be recommended for adult collectors, as they just won't hold up to rigorous play.  The arm and leg joints in particular tend to come apart very easily, which is fine if you want to swap some body parts, but they often come off too easily when just trying to pose a figure.  Also, now that it's been more than a decade since their original release, it's become clear that some of the plastics used are prone to discoloration over time.  So far, this generally seems most noticeable with some of lighter colors, such as the hands.
So, now that Palisades is no more and the proposed third series of X-Files PALz figures never saw the light of day, is this the end of The X-Files block figures?  The demand was obviously there after the X-Files Revival was announced in early 2015 when Brent Waller, designer of the excellent Ghostbusters LEGO set, proposed a set of X-Files LEGOs, complete with Mulder and Scully's basement office, to  LEGO Ideas.  The proposed set was very popular with both X-Files and LEGO fans and was widely reported on in collector's circles, however it was ultimately rejected by LEGO due to the show's mature themes (damn it, Home…  we still love you, though).  While unofficial, custom versions of the LEGO Mulder and Scully figures can be ordered at a premium, it sadly doesn't appear that we'll be getting official versions anytime soon.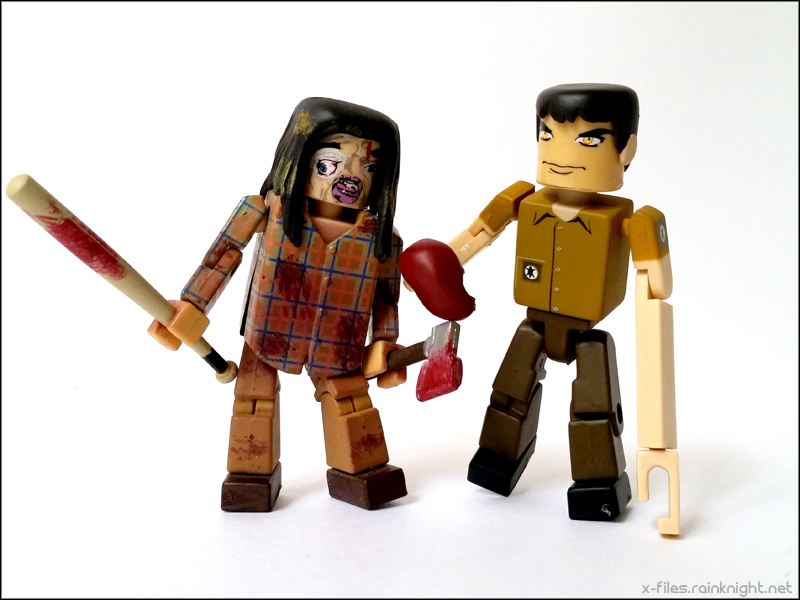 But fortunately LEGO's lack of interest was not the end.  As I mentioned in the PALz Series 1 review, the PALz figures were originally a derivative of Art Asylum's Minimates line, and now it seems that we've come full circle, with Art Asylum picking up the license and putting out figures for both the 2016 limited series as well as a set of figures for the classic series.  So far the range of figures is nowhere near the variety seen in the two PALz sets, but these will be the first new figures released specifically based on Mulder and Scully's Season 10 look, so it's still an exciting prospect.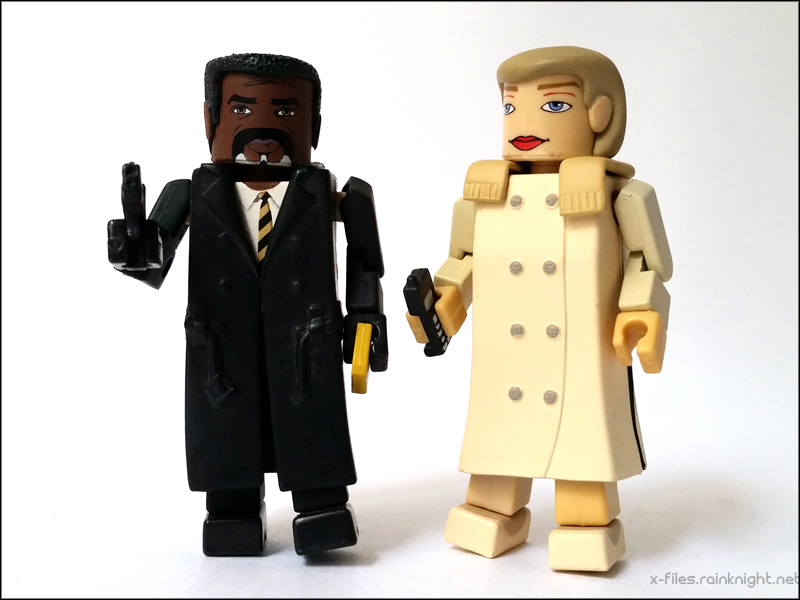 So, that brings us to the end of the road for the X-Files PALz line.  As mentioned earlier, these figures can be hard to come by these days and can be quite pricey when they do appear for sale.  With that said, if anyone has the Scully and Skinner chase figures and would like to contribute photos for this review, please feel free to leave a message in the comments section or contact me on Twitter!  And hopefully we'll be able to check out just how the PALz figures stack up against the new Minimates in an upcoming review…
Information was compiled from my own memory and 2005 email receipts, as well as old retailer and eBay listings (especially the super-informative Corndog Collectibles) and message board posts.