In 2005, the now-defunct Palisades Toys released two series of The X-Files "PALz" mini figures.  The PALz figures were articulated block figures similar to the Minimates line, which the PALz figures were originally a derivative of, separating into its own line once a licensing deal between Palisades and Art Asylum fell apart.  (Interestingly enough, ten years later, Art Asylum finally plans to release The X-Files Minimates in a few months to correspond with the 2016 X-Files limited series.)  Three series of the X-Files PALz figures were said to be designed, however, only two were released before Palisades went under.  Despite that, the two series that  were released still represent the most variety of any of the X-Files toy lines to date, with a combined 16 characters represented, spanning mythology and MOTW alike.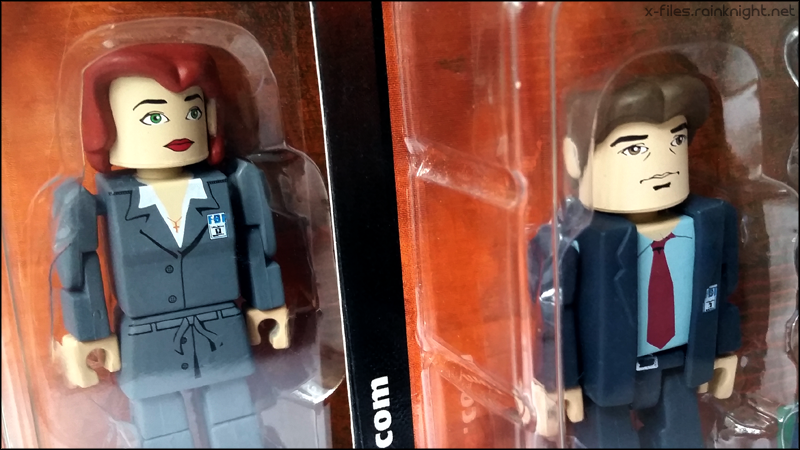 The major difference between the two series that were released was the way they were packaged.  The first series was released on nicely-designed blister cards, whereas the second series was released as blind-packaged boxes — a decision that greatly upset collectors at the time, especially in North America where blind-packaged figures weren't as common or popular as they were in some other markets, such as Japan.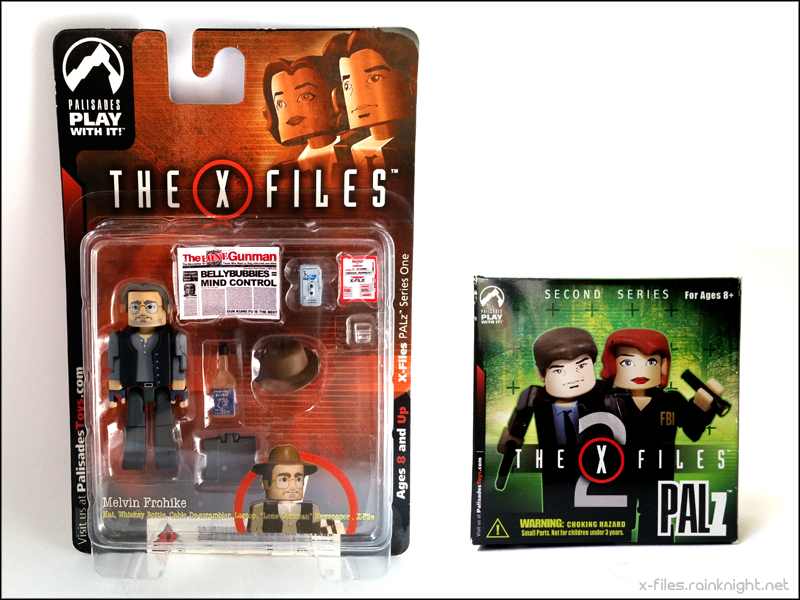 The figures were available from specialty retailers both in stores (Sam Goody, Suncoast, Media Play) and online (Entertainment Earth, ToyWiz).  The blister packaging of Series 1 seemed to be a bit more popular with North American retailers, so this series may be slightly more common.
Despite their simple, playful look, adult collectors were definitely the target audience for this line.  It was released a few years after the series ended and didn't shy away from some of the darker elements of the show.  Palisades was a favorite among collectors due to their dedication to attention to detail in their licenses and reception to feedback from their fanbase.  This attention to detail was reflected in the characters selected, from MOTW fan-favorites to recurring secondary characters often ignored in merchandising such as Frohike and Deep Throat, and the accessories included, such as Donnie Pfaster's creepy lock of hair and shampoo bottle and the Flukeman's porta potty.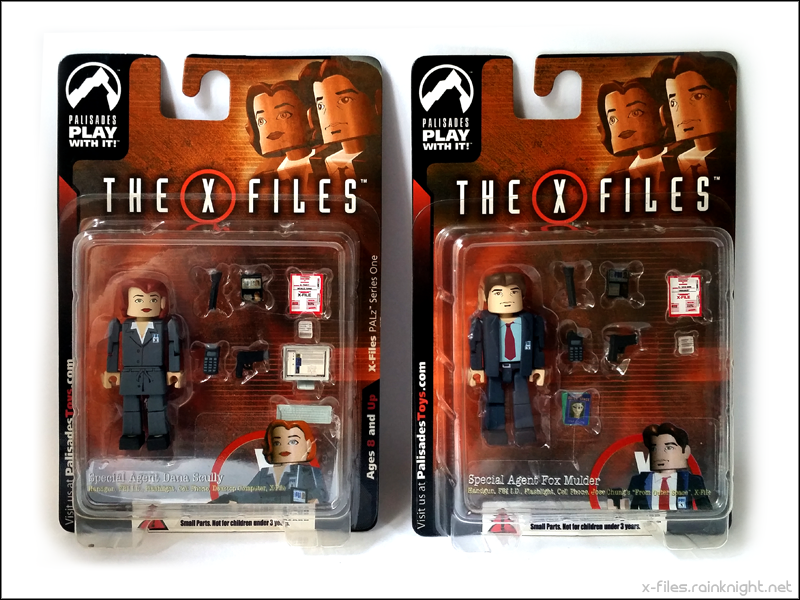 At the time, the prices of the PALz line were considered a little on the high end for mini figures (with a suggested retail price of US $6.99 each), though they were still the more affordable choice compared to the contemporary line of X-Files 12″ figures being released by Sideshow Collectibles, which featured more realistic detail at a much larger scale and went for $40.00 and up.
With the history out of the way, let's focus on Series 1.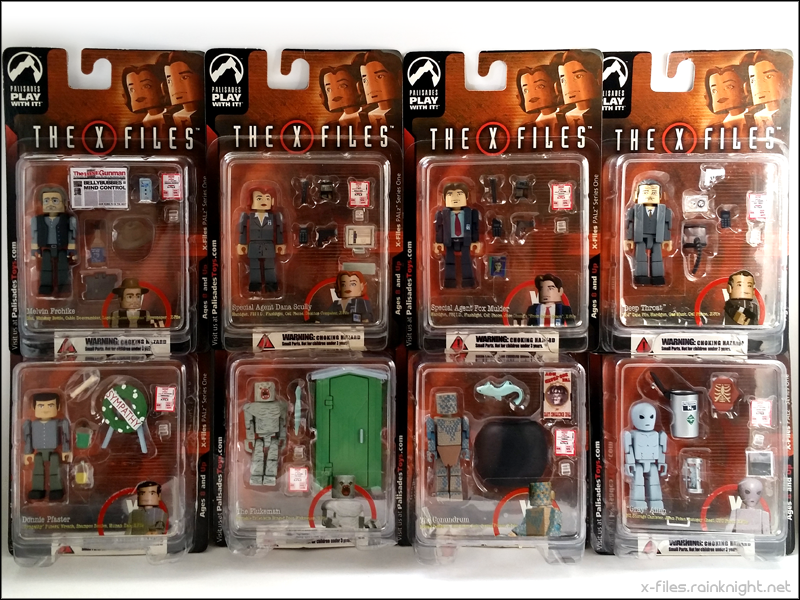 Series 1 was released around April 2005 and featured 11 different figures:  8 standard, 3 chase variants.  In this series, the chase figures were all variations of characters featured in the standard set of 8 rather than a mix of variants and new characters, as we would later see in Series 2.   A case of Series 1 contained 24 figures in the following quantities:
– Special Agent Fox Mulder (x3)
– Special Agent Dana Scully (x3)
– Flukeman (x3)
– The Conundrum (x3)
– Gray Alien (x3)
– Donnie Pfaster (x2)
– Melvin Frohike (x2)
– Deep Throat (x2)
– Mulder Repaint Chase "Special Agent Fox Mulder (Man in Black Variant)" (x1)
– Scully Repaint Chase "Special Agent Dana Scully (Captive)" (x1)
– Demon Pfaster "Donnie Pfaster (Face of Evil)" (x1)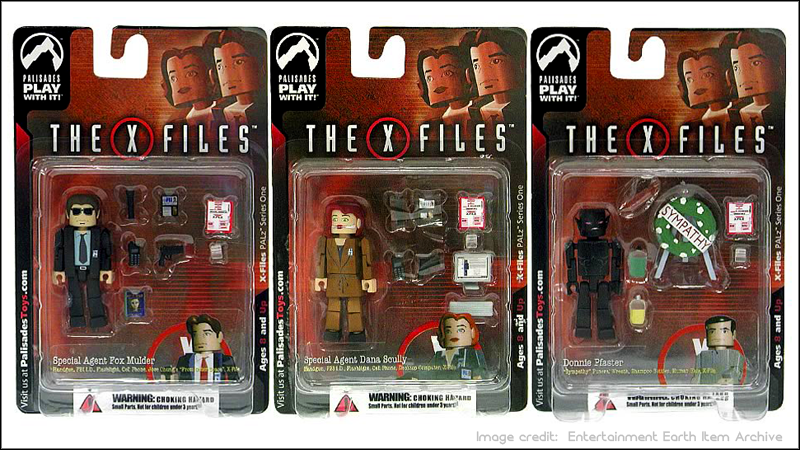 In addition to the 11 figures released at retail, there were also a couple of variants available only at specific shows.  At San Diego Comic Con 2005, a packaging variant of The Conundrum was released that included just the figure without any of the accessories.  It was packaged in a plastic bag with a cardboard hanger that featured a blank space where it could be autographed by The Enigma, the actor and inspiration for The Conundrum on The X-Files.  A photo of The Enigma himself is also featured on this packaging, as opposed to the render of the figure that's displayed on the standard retail packaging.  It is also marked with the official SDCC Exclusive logo.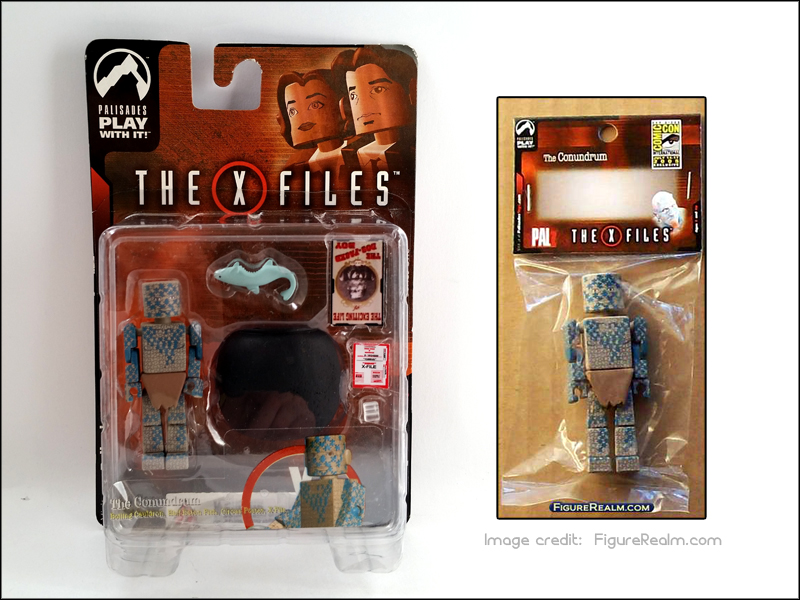 But the very first X-Files PALz were actually a promotion for the line at New York Toy Fair 2005, which likely predated the commercial release by a couple of months.  These prototype-esque figures featured all-black, unpainted versions of Mulder and Scully along with a gun accessory and were available at the Palisades booth at the show.  They're shown below along with a small flier advertising the upcoming toy line.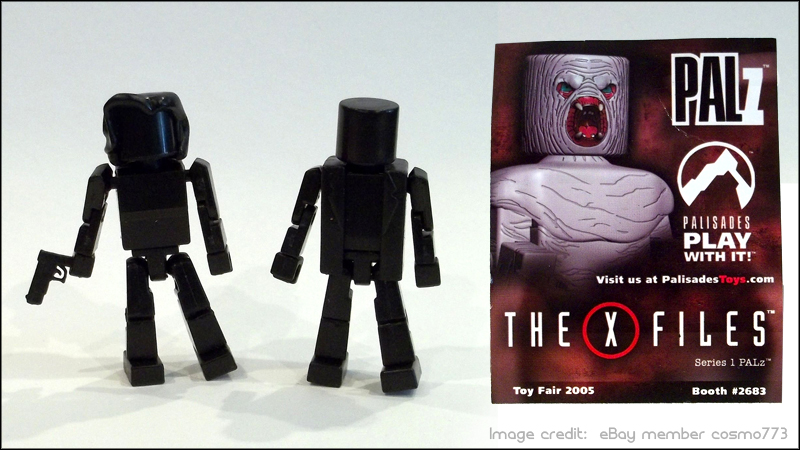 And that's a wrap for Series 1!  Stay tuned for Series 2, where we'll investigate even more characters, more variants, and more disturbing accessories hidden within those unassuming blind boxes.
Information was compiled from my own memory and 2005 email receipts, as well as old retailer and eBay listings (especially the super-informative Corndog Collectibles) and message board posts.
Liked this post? Follow this blog to get more.